The Business of Mining: How Michigan Tech Won an International Competition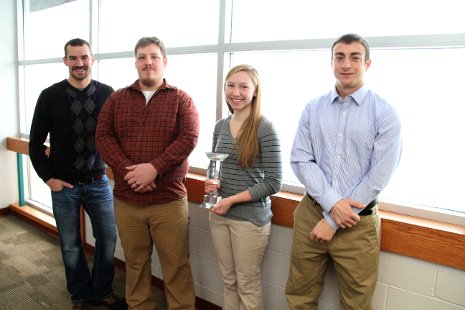 Michigan Technological University's recent win in the National Mining Competition in Saskatchewan surprised more than a few of the Canadian schools who made up the competitors, and the judges.
"We told them a gold mine there was not feasible," says Matt Schuman, a junior mechanical engineering major. "The other teams tried to show how the mine could be possible, but we were the ones who said this potential gold mine in Canada's Northwest Territories wouldn't be feasible at this time."
The business analysis by the team tipped the scales in their favor as they cited gold prices not being high enough to justify development.
And it came from a foursome with engineering backgrounds.
In addition to Schuman, Matt Younger is a civil engineer with a mining minor graduating this month and continuing on to grad school at Michigan Tech. Cora Hemmila is a junior in geological engineering with a mining minor, and Matt Schwalen is a senior civil engineering major with a mining minor.
In a competition full of mining and business majors on the fourteen teams (all Canadian, except for Michigan Tech),in the judges' minds, their engineering approach made the difference.
"It was intense," Schuman said. "It was 36 hours to come up with an answer. There was a lot of engineering to figure out."
"With our engineering backgrounds, we established a design, generated numbers for construction and operating costs and applied the numbers to establish potential returns, for all these CEOs and CFOs judging us," said Schwalen. "They were most concerned about whether or not you can develop it and finance it."
Younger applied his knowledge of mining equipment, earned during co-ops with P&H, to help the cause. Hemmila appreciated the real-world aspect of the competition and the emphasis on financing and evaluation that goes into mining.
"We learned a lot about communication, too," added Schwalen. "We had to work with many professions other than engineering and will have to continue to do so."
Murray Gillis, instructor in geological and mining engineering and sciences and advisor to the group, agreed that the communication and financial emphases were prominent and said they fit in nicely with the business and engineering interface at Michigan Tech.
"It's part of our tradition here," Gillis said. "We've sent many alumni to Canada and elsewhere to work in mining, and now, as mining rebounds, it is the engineers who are still finding great jobs."
The old adage about Tech alumni hitting the ground running still holds true, Gillis said. But that ground has shifted.
"They do much more R&D in mining in Canada than any other industry," he said. "And there's much more autonomous mining going on, which requires more engineers."
"We know that mining is becoming more high tech," Schuman said.
And it is readily apparent that these Tech students are well positioned to be major players in that new mining scenario.
Michigan Technological University is a public research university, home to more than 7,000 students from 54 countries. Founded in 1885, the University offers more than 120 undergraduate and graduate degree programs in science and technology, engineering, forestry, business and economics, health professions, humanities, mathematics, and social sciences. Our campus in Michigan's Upper Peninsula overlooks the Keweenaw Waterway and is just a few miles from Lake Superior.