The Last Class: Beth Flynn, Humanities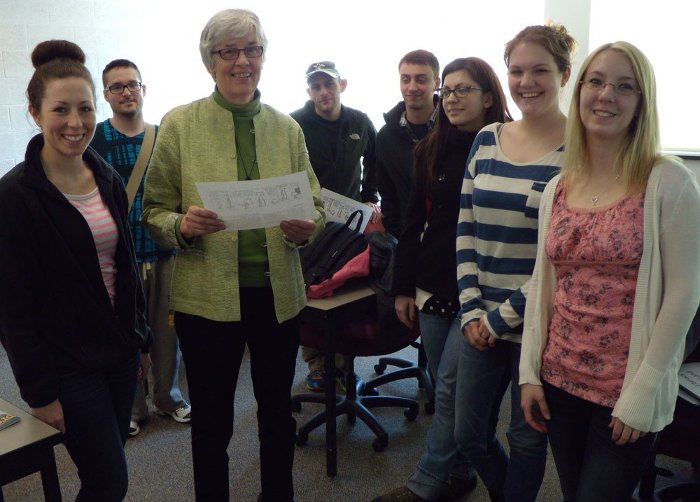 Beth Flynn had trouble with all three of her vehicles one recent morning. A wrecker call wasn't the way she thought she'd begin her last day of teaching.
The humanities professor did made it to campus to teach Literary Theory and Criticism, a small seminar designed for advanced English majors, and she clearly had left her last class with lessons learned.
The students read James Joyce, D. H. Lawrence, Virginia Woolf and others, and for their finale they presented on their final papers.
One student asked of Lawrence: "sexist or savvy?" Another looked at androgyny in Woolf via Alice Walker. Another worked with generation gaps and cultural assimilation in Jhumpa Lahiri's work. Still another tackled the poetry of Adrienne Rich.
Along they way, they asked and answered some interesting questions: Why is this relevant? What is the significance of this author? How do certain types of criticism differ? What other authors are similar? How does culture play a role in criticism?
Flynn taught right to the end of the 75-minute class, bringing in "Calvin and Hobbes" as an example of irony, new historicism, and more, asking the class to speculate on Bill Watterson's political bent.
Some students said they were raised on the comic strip and others similar to it, adding to the relevance of the last moments.
At the end, they posed with Flynn for a photo, as they moved on to the end of their semesters, and she moved on to her next phase.
She then answered some questions: her last assignment.
The biggest change over the years? One big change was computers. I remember in the early 80s teaching in Fisher Hall across from the Sim Lab, where there were enormous computers. At that time, the desktop computers we were starting to use were called "microcomputers." At one point, grade submission became automated, which meant that we entered our grades on punch cards. I remember, too, when the department first started using email on a regular basis in the 90s. I never thought it would become so pervasive. I never thought we'd be using computers so routinely in our classes. It is amazing what information students can find on the Internet.
What has stayed mostly the same? I guess the job itself hasn't changed dramatically—teaching, research, committee work. We still have department meetings. We still meet in classrooms for the most part (though that is changing to an extent). We still go to conferences. We still publish in hard copy venues, though that is changing to an extent as well.
How have the students changed? Before I came to Tech, I taught students at Ohio State and Antioch College. . . . Tech students were refreshing because they tended to be quite a bit brighter than the Ohio State students. The Antioch students were generally very bright, well-read and sophisticated. They weren't always that reliable, though. Taking incompletes was routine at Antioch. It rarely happens at Tech. Tech students were much more reliable, and still are, for the most part. They sometimes seem to be more stressed and distracted than they once were, though.
What will you miss the most? Certainly the interaction with students and colleagues. It is exciting to see students learn, and it is fun to exchange ideas with colleagues, especially since they are from so many different fields in the Department of Humanities. My own thinking and research have been profoundly influenced by being in an interdisciplinary department and at a technological university.
What are your plans now? I'll certainly continue doing research. I'm working on a book on transnational feminism, and I have several collaborative projects in various stages of completion. I'm directing a PhD dissertation and am serving on several other graduate committees. I'm also an Omega House hospice volunteer. I'll also do more travelling. I get to DC fairly regularly as my daughter is there, and we are talking about a trip to Barcelona at some point. Neither of us has been to Spain. I live on a 180-acre farm, so I can become much more of a back-to-the-lander than I have been. I'll continue gardening with friends, pressing cider in years in which the apples are good, hiking in the woods and cross-country skiing. I realized recently, though, after being the recipient of my neighbors' maple sap and maple syrup, that I can't recognize a maple tree without its leaves, much less a sugar maple. I'm also not a great birder. There are all sorts of opportunities for expansion and growth.
I was having dinner with some Tech friends recently, and we agreed that we've been very fortunate to have had the careers we've had here at Michigan Tech. It's a great place to live, and the stability and continuity the University has provided has been enormously beneficial to our development. Thanks to everyone who has made that possible.
Michigan Technological University is a public research university, home to more than 7,000 students from 54 countries. Founded in 1885, the University offers more than 120 undergraduate and graduate degree programs in science and technology, engineering, forestry, business and economics, health professions, humanities, mathematics, and social sciences. Our campus in Michigan's Upper Peninsula overlooks the Keweenaw Waterway and is just a few miles from Lake Superior.