Michigan Tech, Portage Health Team up on Sleep Studies
By Dennis Walikainen | Published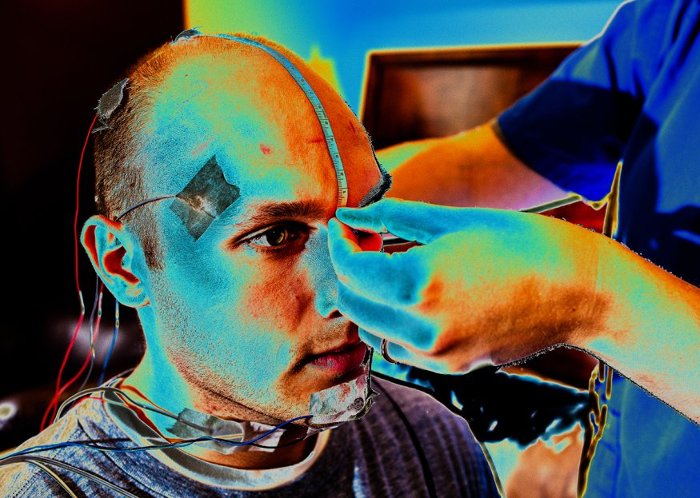 In a new collaboration, researchers from Michigan Technological University and Portage Health are working together to study sleep disorders, focusing on sleep apnea.
Based in Portage Health's Sleep Disorders Center in Hancock, Jason Carter and Dr. Carl Smoot are trying to assess what causes sleep apnea, what makes it worse, and how to stop it and its negative side effects.
"Sleep makes up one-third of our lives, yet we are just beginning to research it and understand its importance," said Carter, chair of kinesiology and integrative physiology at Michigan Tech.
"We think there might be a relation between sleep apnea and glaucoma, due to the lack of oxygen," said Smoot, director of the Sleep Disorders Center. "There are also studies that draw connections with asthma, diabetes, and increasing chances for strokes and heart attacks. And we know that alcohol use negatively impacts sleep apnea."
"Our long-range goal of these studies is to influence therapeutic strategies for sleep apnea patients," Carter said. Sleep apnea, prevalent in some 30 to 40 percent of men and 20-30 percent of women, is marked by the stopping of breathing, as often as 30 times per hour. It can also be related to obesity.
To alleviate the pattern, patients use CPAP (continuous positive airway pressure), wearing a mask and using mild air pressure to keep pathways open. "Some people are only getting 70 percent oxygen, where 95 percent is normal for overnight," Smoot explained.
Deep sleep occurs early in the night, said Carter. Then, between 4 a.m. and waking, sleep can be more susceptible to interruptions during the dream stages.
"In our study, we will look at the risk factors," Carter said. "For years, we have promoted healthy eating and exercise, and sleep is the third pillar of health. Some studies indicate 70 percent of adolescents are sleep deprived."
"Sleep research is really in its infancy," he noted. "For example, sleep deprivation contributes to hypertension, and we are still trying to understand the underlying mechanisms."
Sleep can be negatively affected by something called sympathetic tone, Smoot added. "The sympathetic nervous system's 'fight or flight' response is necessary, but not in the middle of the night. With our studies here, we will be able to target at-risk populations who are impacted by inadequate or poor sleep."
"With the Sleep Disorder Center, we have access to a facility accredited by the American Academy of Sleep Medicine, and only 20 percent nationwide have that distinction," Carter said. "The American Heart Association is also very interested in this type of multidisciplinary study."
Within the center's walls, two bedrooms are set up to do the research, looking like nicely appointed motel rooms, with furniture, magazines, and television. Subjects will sleep— or not—overnight, wired to monitoring equipment. The researchers hope to help those who just need a good night's sleep.
Michigan Technological University is a public research university, home to more than 7,000 students from 54 countries. Founded in 1885, the University offers more than 120 undergraduate and graduate degree programs in science and technology, engineering, forestry, business and economics, health professions, humanities, mathematics, and social sciences. Our campus in Michigan's Upper Peninsula overlooks the Keweenaw Waterway and is just a few miles from Lake Superior.