Michigan Tech Student Takes Two Mountain Bike Championships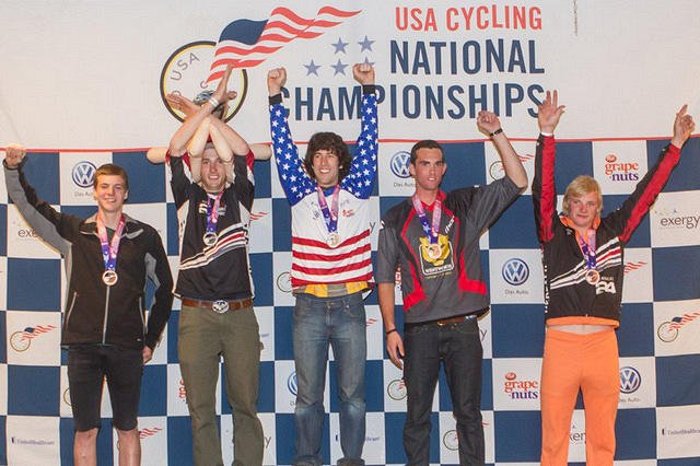 Michigan Technological University won two more national championships and they didn't happen on the ice or in the classroom. Paul Mayes won the dual slalom and downhill events at the 2012 USA Cycling Collegiate Mountain Bike Championships, held Oct. 20-21 in Angel Fire, N.M.
"It's exciting to be able to repeat in dual slalom, but the downhill title means more to me coming from the Midwest," said Mayes, a mechanical engineering major and member of Michigan Tech's Copper Country Cycling Club. "I crashed in downhill last year, so I really wanted to perform well this year."
Mayes, who won the national title in dual slalom in 2011, used his previous knowledge of the course to his advantage. "The dual slalom course was the same design as last year, but conditions were completely different. Last year, it was very muddy and cold. This year, everything was dry and dusty. The dust over hardpack made the course very fast, but also slippery in the corners. Lots of riders crashed, with a couple ending up in the hospital."
According to Wikipedia, dual slalom consists of two racers racing two almost identical tracks next to each other down a slope. The courses are usually short, with one run lasting about 30 seconds. It is filled with tabletop jumps, doubles and bermed turns. Both riders' times are taken, and then they switch tracks for another round, whereafter the combined times are counted and slower rider is eliminated. The winner moves on to the next round until two riders are left racing in the final.
The downhill course started 1,500 feet up the mountain. "It was a really fast course, with berms and jumps throughout," he said. "A lot of riders were unhappy with the course, but I really liked it. It was the kind of trail that I would ride all day at a bike park. It was, by far, the fastest downhill race I've ever been in."
Mayes said the Angel Fire and Tech Trails courses share some similarities: lots of berms and rollers. "The biggest difference is speed," he said. "The Angel Fire course drops 100 feet, so the speeds are much higher than on the course here. Riding the dual slalom course here was good practice for nationals."
After winning the downhill title on Saturday, Mayes' expectations were not very high. "I wasn't really worried about slalom. I just planned to have fun and do the best I could. I didn't really care how I qualified."
A near crash in his qualifying run resulted in the slowest time of the day, and he entered the dual slalom competition as the lowest seed.
"I figured if I stayed upright and rode consistently, I'd do pretty well. It seemed like everyone racing was having fun, which was really cool. Sometimes the races seem too serious to be fun."
Mayes relied on his girlfriend, Liz O'Neill, and teammate Coty VanLannen, who would finish 14th in dual slalom and 13th in downhill, for support in the dual slalom. "After he was knocked out in dual slalom, Coty and Liz helped me carry my bike, helmet and water back up the hill to the starting gate after each round. This doesn't seem like a big deal, but pushing the bike back up the hill between rounds is nearly as tiring as the race itself. He did the same thing last year, pushing my bike up and cleaning the mud off of it. I would not have won without his help."
Michigan Technological University is a public research university, home to more than 7,000 students from 54 countries. Founded in 1885, the University offers more than 120 undergraduate and graduate degree programs in science and technology, engineering, forestry, business and economics, health professions, humanities, mathematics, and social sciences. Our campus in Michigan's Upper Peninsula overlooks the Keweenaw Waterway and is just a few miles from Lake Superior.