Governor Appoints 2 New Board of Trustees Members
By Jennifer Donovan | Published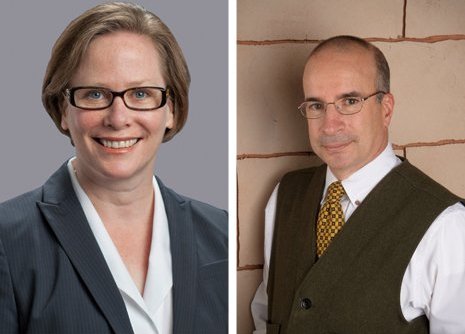 Governor Rick Snyder has announced the appointments of Robert "Bob" Jacquart of Ironwood and Linda Kennedy of Troy to the Michigan Tech Board of Trustees. The eight-person board is the governing body of the University.
"We are pleased to welcome Bob and Linda to Michigan Tech's Board of Trustees," said President Glenn Mroz. "They are talented and experienced leaders who are well equipped to help us achieve our mission and vision."
Kennedy, a 1991 alumna of Michigan Tech, is a shareholder in the Detroit office of Butzel Long PC, one of Michigan's oldest law firms. Previously, she served as in-house counsel for Dow Chemical Co. and as a technical writer for IBM's software solutions division. Kennedy holds a bachelor's degree in scientific and technical communication from Michigan Tech, as well as a bachelor's degree in chemistry and a law degree from the University of Minnesota. She replaces Martha Richardson, whose term on the Board expires Dec. 31, 2012.
"I am honored to assist Michigan Tech to carry out its mission of preparing students to create the future," said Kennedy. "I have always understood Michigan Tech's commitment to science, technology, engineering and math (STEM) to be forward-looking and critical to Michigan's economy."
Jacquart is chief executive officer of Jacquart Fabric Products, a textile designing and manufacturing company his father began in 1958. Under Jacquart's leadership, the company has grown from a small storefront business to a thriving 80,000-square-foot complex with $15 million in annual sales, including the popular Stormy Kromer. He is chair of Gogebic Community College's Board of Trustees until Dec. 31, 2012, and a member of the Michigan Garment Industry Council. Jacquart replaces Kathryn Clark, whose term also expires Dec. 31, 2012.
"I'm honored and excited to be invited to serve on the Board of Trustees at Michigan Tech," Jacquart said. "This new appointment will be a phenomenal challenge for me. I look forward to meeting my new colleagues and to contributing to the vision and success of Michigan Tech. My personal motto is 'Never stop growing.' This appointment will provide a unique opportunity to build on the skills and knowledge I acquired during my tenure on the outstanding board of Gogebic Community College."
Appointees serve eight-year terms that expire Dec. 31, 2020, and their appointments are subject to the advice and consent of the Senate.
Michigan Technological University is a public research university, home to more than 7,000 students from 54 countries. Founded in 1885, the University offers more than 120 undergraduate and graduate degree programs in science and technology, engineering, forestry, business and economics, health professions, humanities, mathematics, and social sciences. Our campus in Michigan's Upper Peninsula overlooks the Keweenaw Waterway and is just a few miles from Lake Superior.