Adventures in Entrepreneurship, Courtesy of the National Science Foundation
By Marcia Goodrich | Published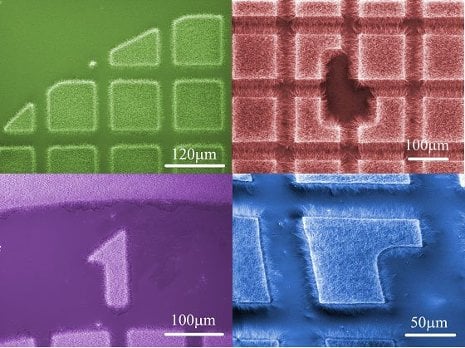 For every brilliant discovery that finds its way into the marketplace, there are hundreds that never escape the pages of scientific journals. The National Science Foundation is addressing that disconnect with its Innovation Corps, or I-Corps, Teams.
Physics professor Yoke Khin Yap is the first Michigan Technological University faculty member to be part of an NSF I-Corps Team, along with postdoctoral researcher Dustin Winslow and John Diebel, assistant director of technology commercialization, innovation and industry engagement. They are undertaking a six-month crash course in turning a scientific innovation into a business solution.
In the past two years, about 150 teams from across the nation have been accepted into I-Corps, an array of activities and programs that prepare scientists and engineers to extend their focus beyond the laboratory and heighten the impact of select, NSF-funded, basic-research projects.
"I'm not really trying to be a business person," says Yap. "But it can be frustrating. You discover something, you publish a paper, you inspire people . . . and then what? I thought I-Corps could be a way to transform basic research into something beneficial for society."
Yap is the team's principal investigator, serving as the technical lead and project manager. Diebel is the mentor, contributing tech transfer expertise. Winslow is the lead entrepreneur, exploring their project's potential for commercialization.
They are investigating uses for high-quality boron nitride nanotubes Yap developed using a novel, high-yield process. BNNTs hold promise in a number of areas, including dissipating heat. Overheating can cause failure in electronics, including high-powered LEDs and hybrid and electric vehicles.
The team members recently participated in an intensive, three-day I-Corps workshop at the University of Michigan, where they began to apply some basic lessons of entrepreneurship. Lesson number one: you are not a big corporation, so don't act like one. "They know their customers, so they go from the lab to the market," says Yap. "We have to do it the other way around, from the bottom up."
"We ask potential customers, what is your pain? And then we ask ourselves if we have something that will cure it," Yap said. "Hopefully at the end of the day, we know what problem our discovery can tackle and how much they'll pay you for it. A lot of startups fail because they don't do this."
It seemed obvious, Winslow said. Of course you should talk with the people who might buy what you're selling. Actually doing it was a different matter. In two short afternoons, the lead entrepreneurs were required to contact and interview 10 potential customers.
"I've worked in an academic setting my whole life, and it made me nervous to go out and talk to people I'd never met," he said. "The first time I did it, I picked up the phone and put it down several times. But I discovered that people are really open and willing to talk about their industry and their problems. I've become much more comfortable making cold calls."
The I-Corps curriculum is based on an entrepreneurship course by Steve Blank, a Silicon Valley startup guru and author.
"The whole theme behind the I-Corps method Steve Blank developed is to Get Out of the Building," Diebel said. "By the time we're done, we will have contacted 100 potential customers or people in our supply chain."
That's a critical first step toward launching a business. "If you are ever going to get a technology-based company financed, you need to validate that market," Diebel said. "Conducting 100 interviews is something you will need to do before you can be successful anyway. NSF's focus is on getting that work done up front."
NSF also stresses that the lead entrepreneur is the key player. "It's not about whether a company directly results," Diebel said. "The focus is on giving a new set of skills to lead entrepreneurs that they can use throughout their careers."
Nevertheless, Winslow thinks they may be onto something. "When we first started out, we had a bunch of different ideas. Now we've really been able to identify an area where boron nitride nanotubes could be useful: heat management," he said. "Several sectors are excited, and some companies are interested in working with us." Should the nanotubes bear commercial fruit, he would be "ecstatic."
I-Corps may not be for those who are already working 80 hours a week. "It requires a huge time commitment," Yap noted. But startup or no startup, I-Corps is already informing his research and teaching.
"This process can help us choose the type of basic research we do," he said. "We can ask, 'Will this really solve a problem?' In that respect, it can push us toward high-impact research that not only is good for business, but also leads to a more sustainable society--a society that's willing to invest in more basic research."
For more information on I-Corps contact Diebel at 906-487-1082, jfdiebel@mtu.edu.
Michigan Technological University is a public research university, home to more than 7,000 students from 54 countries. Founded in 1885, the University offers more than 120 undergraduate and graduate degree programs in science and technology, engineering, forestry, business and economics, health professions, humanities, mathematics, and social sciences. Our campus in Michigan's Upper Peninsula overlooks the Keweenaw Waterway and is just a few miles from Lake Superior.