Something to Drag About—Michigan Tech Celebrates Pride Week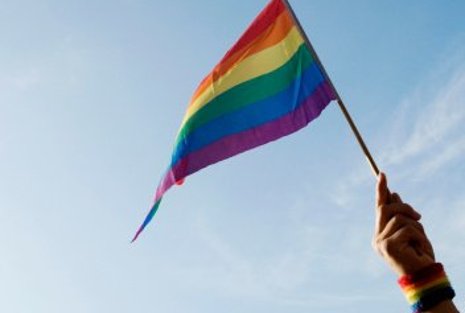 Keweenaw Pride's annual Pride Week—a celebration of gay, lesbian, bisexual, transgender, queer and questioning (GLBTQ) peoples and culture—is this week. It began Sunday, April 1 and runs through Friday, April 6.
The week's events include screenings of several films that highlight the GLBTQ experience, fun events like "Guess the Straight Person, a guest lecture by the renowned Rev. Dr. Jamie Washington and more. The week culminates with the twelfth annual drag show, a musical celebration featuring extravagant costumes that rocks the Rozsa each year. The event is so popular that the theater fills up fast.
Pride Week events are free and open to the public.
Sunday, April 1
Film Screening, "The Curiosity of Chance," M&M U115, 7 p.m.
Follow the story of one young openly hsy teenager as he bands with his two closest friends—a straight jock he has a crush on and a drag queen—to help him bring down the homophobic bully threatening his high-school existence.
Monday, April 2
Guess the Straight Person, MUB Ballroom A1, 7 p.m.
An opportunity to explore stereotypes and challenge your own ability to determine the sexual orientation of strangers in this fun game-show-style event. Audience members write questions to ask the panel of nine students—only one of whom identifies himself or herself as "straight"—and try to guess who the sole straight person is after they have answered a handful of revealing questions.
Tuesday, April 3
Taboo Talk, DHH Ballroom, 7 p.m.
This is your chance to finally ask your most "off-limits" questions to a panel of GLBTQ students and community members. Nothing is taboo during this event's question-and-answer session—from sex to religion, anything goes.
Wednesday, April 4
Film Screening, "She's a Boy I Knew," Fisher 135, 7 p.m.
Watch the story of one male-to-female transgender woman in this heartfelt film. See how transgender transition affects one's self, and one's family, and discover the raw, un-edited, unapologetic reality of being transgender.
Thursday, April 5
Lecture, Rev. Dr. Jamie Washington, DHH Ballroom, 6 p.m.
Rev. Dr. Jamie Washington talks about the importance of promoting diversity, creating change and working together to create a better tomorrow. As the president and founder of the Washington Consulting Group, Washington knows first-hand the importance of diversity in the workplace.
Friday, April 6
Presentation, Keith Berry, "Uncovering the Gay Intercultralist," Walker 120, 10 a.m.
Lunch with the Drag Queens, Center for Diversity and Inclusion (Hamar House, #13), 2 p.m.
Chat with the performers before their big show and find out more about being a drag performer. Lunch provided by the Center for Diversity and Inclusion.
Twelfth Annual Drag Show, Rozsa Center for the Performing Arts, 8 p.m. (doors open at 7:30 p.m.)
Watch as six performers—the largest cast ever to perform at Keweenaw Pride's Drag Show—dazzle the audience with their glitzy gowns and show-stopping numbers. This year's show will be followed by a short amateur competition, with registered students and community members showing off their drag skills. Last year's Drag Show drew almost 1,200 people. Keweenaw Pride advises arriving early for the best seats.
Pride Week is Keweenaw Pride's biggest event of the year. The group aims to support GLBTQ students at Michigan Tech by providing social opportunities and to further the acceptance of the GLBTQ community through local activism.
Michigan Technological University is a public research university, home to more than 7,000 students from 54 countries. Founded in 1885, the University offers more than 120 undergraduate and graduate degree programs in science and technology, engineering, forestry, business and economics, health professions, humanities, mathematics, and social sciences. Our campus in Michigan's Upper Peninsula overlooks the Keweenaw Waterway and is just a few miles from Lake Superior.