Michigan Tech Nabs Top-10 Finish in SAE Baja Wisconsin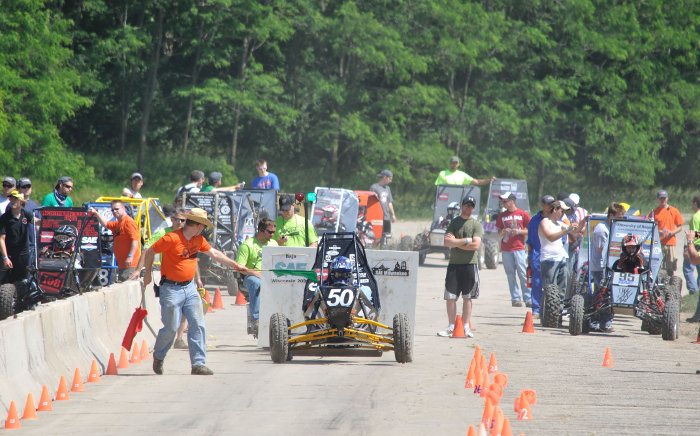 Michigan Technological University's Baja Enterprise team excelled in the 2012 SAE Baja Wisconsin, finishing in the top 10.
"We were eighth overall, fifth in the US, and the top team among the six Michigan schools competing," said the team's advisor, Brett Hamlin, assistant chair of engineering fundamentals.
Ninety-five colleges and universities from six nations fielded vehicles in the June 7-10 event, which was hosted by the University of Wisconsin-Madison in Burlington, Wis., at the MGA Research Facility, the former testing grounds of now-defunct American Motors. Michigan Tech finished sixth in the Baja's mud bog competition.
"Imagine a 60-foot-long concrete trough that's two feet deep in gooey mud," Hamlin said. "AMC used to make Jeeps, and that's where they would drive their vehicles, down a ramp, into this trough, and out the other side."
In this Society of Automotive Engineers collegiate design competition, engineering students design and build an off-road vehicle that will survive the punishment of rough terrain and water. SAE student members compete against one another to have their design accepted for manufacture by a fictitious firm. All vehicles are powered by a 10-horse Intek Model 20 engine donated by Briggs & Stratton.
"We've been pretty successful the last few years, and this year in particular it was a really good team effort," Hamlin said. "Everyone worked together toward the success of the University, not just the success of any single person's design."
The team ranked 11th in cost, which prompted officials to take a closer look. "When vehicles appear to be high quality and inexpensive, officials often flag them and look at ever single item" to assure that they really are a great value, he said. "Our students had all the paperwork to prove it, every single receipt, so we had a successful audit."
The team posted strong scores in all phases of the competition against a tough field. "This year's competition was at a very high level," Hamlin said. "In the past, it was obvious from the beginning who the top 10 or 15 teams would be. This year, almost everyone looked like a winner. The Canadians were just incredible."
What's next? The students hope to compete for the Iron Team Award in 2013, given to the team that finishes best overall in the three SAE Baja contests. "We won that last time we competed, but you have to travel all over the country to the three events, so it's very expensive," said Hamlin.
The winner of SAE Baja Wisconsin was Universite Laval, of Quebec City, Quebec. The second- through seventh-place finishers were Oregon State University, Cornell University, Ecole De Technologie Superieure of Montreal, Ohio Northern University, Queens University of Kingston, Ontario, and the State University of New York at Buffalo.
Members of the Baja Enterprise team are Amanda Beam, Kyle Broetzmann, Garret Brondyke, Kyle Cooper, Robert Cooper, Grant Cox, Joseph DeHaan, Devan Faust, Andrew Glaeser, Joshua Hages, Zachary Halverson, Trevor Hanson, Kyle Kestila, Aaron King, Jon Knutson, Evan Kobman, Nathan Koetsier, Zach Peck, Matthew Rebandt, Scott Rhudy, Cory Sarago, Bret Schulte, Tyson Shink, Richard Stevens, Eric VanDrie, Nathan Wilder, Bethanie Wojey, David Woller and Alexander Yosick.
Michigan Technological University is a public research university, home to more than 7,000 students from 54 countries. Founded in 1885, the University offers more than 120 undergraduate and graduate degree programs in science and technology, engineering, forestry, business and economics, health professions, humanities, mathematics, and social sciences. Our campus in Michigan's Upper Peninsula overlooks the Keweenaw Waterway and is just a few miles from Lake Superior.