Enterprise Students Help Winterize Homes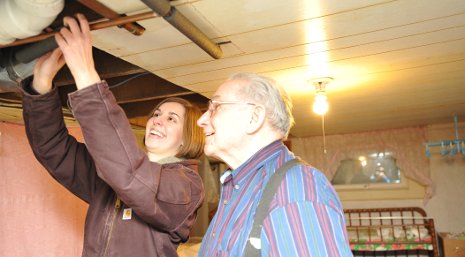 Baby, it's cold outside—but with help from a group of Michigan Technological University students, low-income and fixed-income households in nearby communities aren't feeling the chill.
With support from Range Valley State Bank and the Ford College Community Challenge grant, members of Michigan Tech's Efficiency through Engineering and Construction Enterprise (ETEC) students are working with local service agencies on an energy-saving initiative to winterize homes in this cold and snowy community.
Chelsea Smith, 21, a native of Manistique, is a fourth-year student in general engineering. Secretary of ETEC, her academic focus is energy conservation. She enjoys doing the kind of work that will define her career, for her goal is to do large-scale energy audits and reduce energy consumption in buildings. "This work," she says of the winterization project, "is relevant to my future job and an opportunity for leadership. And it feels good to help out people in the community and to give something back."
Loren Kommes, 75, of South Range, is one benefactor. He worked as an electrician, and he and his wife live on Social Security. "We hit the bottom quite a few times," he says of their budget. "We're living on the edge." His heating bill is $1,500 a year. He has oil heat supplemented by a pellet burner. "I think it's going to help," he says of the winterization. "It's a lovely program."
The effort blends campus and community efforts: members of the enterprise, local at-risk high school students and volunteers from New Power Tour Inc., a local nonprofit, provide the labor to winterize one home each week.
"The spirit is amazing," says Melissa Davis, managing director of New Power Tour, which is dedicated to the use of renewable and energy-efficient technology. "Every time we do it," Davis says, "the students have fun and are happy to volunteer and make a difference."
The Enterprise started 10 years ago to help with Habitat for Humanity projects. Lynn Artman, lecturer in the School of Technology, is the faculty advisor. She reports that the team has winterized 30 local homes over the past two years, when the project received a jumpstart from a Ford College Community Challenge (3C) Grant that provided $50,000 for materials and equipment, as well as a scholarship fund for at-risk high school students to attend Tech's Summer Youth Programs. Range Valley State Bank has also contributed financial support.
Over the years, Artman and Davis have collaborated with Kiwanis, Little Brothers Friends of the Elderly, the Unitarian Church and St. Vincent DePaul's— all providing referrals and all coordinated by New Power Tour. Davis and other organizers continually cast about for more funding and more opportunities to help. "We're always looking for people who need our program," she says.
Some of the work is a good fit. St. Vincent's, for instance, has a program to help pay for heat when homeowners can't afford it. "It made sense that we should winterize their homes, too," Artman says.
The students have the necessary equipment, including a blower to measure air infiltration and a thermal-imaging camera to detect trouble spots where heat leaks from the house. They also have the materials to seal and insulate water pipes, boilers, windows, doors and electrical outlets. The two critical areas turn out to be the attic and the rim joists along the foundation. The workers encounter temperatures as low as 37 degrees in the nooks and crannies of some homes. The problem: "a leaky house." The goal: "a tighter house." The students complete the job in an afternoon or two.
Says Artman, "We hope for another good season." Says Davis, "I love it. It's great. I look forward to it. It tops off my week."
Another benefactor of the operation is Patty Monroe, of Chassell. She is 50 and says of the people who winterized her home. "I hope my words can give justice to how wonderful they are."
Her monthly heating bill has been reduced from $200 to $130. "That's huge," says this woman who lives alone on disability. "I'm absolutely, unbelievably grateful. It's like heaven."
Michigan Technological University is a public research university, home to more than 7,000 students from 54 countries. Founded in 1885, the University offers more than 120 undergraduate and graduate degree programs in science and technology, engineering, forestry, business and economics, health professions, humanities, mathematics, and social sciences. Our campus in Michigan's Upper Peninsula overlooks the Keweenaw Waterway and is just a few miles from Lake Superior.