Mind Trekkers Bring the Magic and Mystery of Science to Wisconsin, DC Is Next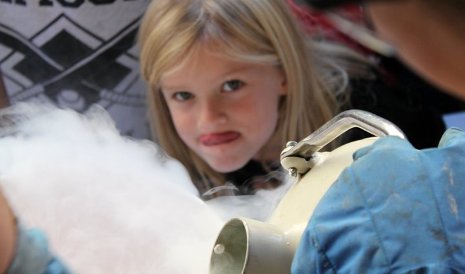 What body parts do a cat and a fish have in common? How can you use liquid nitrogen to make edible ice cream in 60 seconds? What if your eyeglasses adjusted their prescription automatically to your eyes when you put them on, like Dow Corning's Adspecs do? Have you ever walked on water—or at least on ooblek, a water and cornstarch mixture that supports weight if you move across it fast and drags you down if you don't.
Michigan Technological University's Mind Trekkers brought these intriguing demos and nearly 100 other hands-on science and engineering activities to Sheboygan, Wis., this month. Student volunteers and staff from Michigan Tech and high schools near the Houghton, Mich., university performed the popular road show that reveals the science and engineering facts behind the magical mysteries on display.
Sheboygan teachers were invited to bring their classes to the Science & Engineering Festival. Up to 800 elementary and middle-school students attended each of two sessions.
The same fun with science was open to the public the following day.
At other booths, visitors could talk with local science, technology, engineering and math professionals and learn about colleges and universities in the area that offer studies in these fields.
Kohler Company was the major sponsor of the Sheboygan event. Other sponsors include Johnsonville Sausage, the Wisconsin Public Service Commission, the Alliant Energy Foundation, Vollrath Company, Bemis Company, the US Department of Agriculture Forest Service, Aurora Health Systems, the Sheboygan Press and Mercury Marine.
Kohler's popular exhibit was designed to show the impact that careers in science, technology, engineering and math (STEM) fields have on a variety of products that Kohler manufactures. Visitors saw how Kohler engines and generators operate and learned about flush toilet technologies.
Kohler employee volunteers were on hand to talk about their jobs and the educational path that led them to their careers. "We wanted to help visitors understand the critical role STEM plays in our business," said Jeff Zeman, staff environmental engineer-Kohler. "Most importantly, we wanted to show them why these careers are fun and exciting."
"Kohler is going to need more and more engineers and people with technological skills," Matthew Barens, senior industrial project engineer with Kohler, pointed out. "Getting kids excited about science and engineering is good for their future and for ours."
Michigan Tech alumni in the Sheboygan area banded together to help bring Mind Trekkers to the city. Both Zeman and Barens are alumni, as is Tatum Jelenc, product development portfolio manager for Kohler Engines, and Sheila Kaufman, Kohler's product development team leader-sanitary products.
"This event is specifically designed to engage all students, including students who are underachieving in school but truly have potential for greatness, and students who are already interested in STEM fields but are unsure of the opportunities they might have locally for careers," said Barens.
From humble beginnings in 2009 as an offshoot of Michigan Tech's Pre-College Outreach program, Mind Trekkers has grown into a thriving venture that nonprofits, schools and commercial sponsors vie to attract to their areas. Enthusiastic student volunteers have taken the road show to Green Bay, Sault Ste. Marie, Mich., Knoxville, Tenn. and Washington, DC. They performed at the giant Boy Scout Jamboree. Mind Trekkers Director Steve Patchin estimates that so far, hundreds of thousands of school children and parents have been captivated by the Mind Trekkers' science spectacular.
Later this month, the science road show heads back to the nation's capital for the 2nd USA Science and Engineering Festival April 28-29, 2012, at the Washington Convention Center.
---
Founded in 1873 and headquartered in Kohler, Wis., Kohler Co. is one of America's oldest and largest privately held companies. Kohler is a global leader in kitchen and bath products, engines and power generation systems, furniture and decorative tile, and an international host to award-winning hospitality and world-class golf destinations.
Michigan Technological University is a public research university, home to more than 7,000 students from 54 countries. Founded in 1885, the University offers more than 120 undergraduate and graduate degree programs in science and technology, engineering, forestry, business and economics, health professions, humanities, mathematics, and social sciences. Our campus in Michigan's Upper Peninsula overlooks the Keweenaw Waterway and is just a few miles from Lake Superior.