The Future of Urban Transportation: Get Them Out of the Car and on the Bus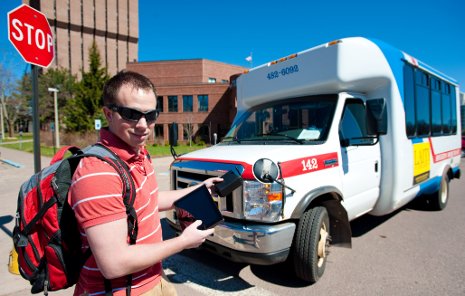 It's a problem faced by colleges and universities across the nation—and the stuff of nightmares for their students. A lack of parking is driving many schools to reevaluate the way students and faculty get to campus. It has even prompted one university to rethink the entire community's transit system from the ground up.
With its setting in a small urban center, and lack of a widely used public transportation system, Michigan Technological University's campus community is frequently left with very few options when it comes to getting to school. Students, staff and faculty can choose to traverse the hilly terrain surrounding the campus on foot, call—and wait—for an on-demand bus service to transport them, or drive a personal vehicle, which often leaves them circling campus in hopes of finding an empty parking spot.
In an effort to reduce the school's carbon footprint and provide a link to surrounding communities, as well as a hassle-free form of transportation to and from campus, Michigan Tech has turned to those who best know the scope of the problem: its own students.
"We set out to develop a system to make it easier to get to campus and save riders some time by making public transportation more efficient and convenient for students," said Shawn Wiegand, a senior computer engineering student.
Wiegand is part of Michigan Tech's Automotive Computing Enterprise—one of the University's signature Enterprise groups, in which students work together as a mock company with industry clients and sponsors to solve real-world problems. Together with the Transportation Enterprise, Automotive Computing Enterprise students are working toward a solution to the public transportation problem.
The two Enterprises won a Ford College Community Challenge (Ford C3) competitive grant of $50,000 last fall to help them study existing public transit systems in the local area and to develop a model for a more environmentally, economically and socially sustainable system. Ford C3 is a national competition recognizing colleges and universities that use a school's resources to address an urgent community need in a more sustainable way. Proposals for the grant are expected to incorporate the use of alternative energies in a unique way. And Ford C3 requires proposals to have significant student input, involvement and leadership from beginning to end.
Meeting all of these requirements, the effort to find a solution to students' day-to-day commuter woes through innovative use of existing resources landed the project its sizable grant.
"We're working to combine Tech and the surrounding cities of Houghton and Hancock into one system that will provide regular routes to popular locations," said Wiegand. "We've had public transportation in each of these locations all along, but they've always been separate."
One of the most difficult challenges the Enterprise students faced was determining what was keeping the original systems from attracting widespread use.
"We needed to figure out how to make it easier," Wiegand said. "We've been sorting through different options to find the optimal route. We're putting kiosks up at a few major stops to display the route. And we're putting GPS transmitters in the busses to track their locations."
Wiegand and his colleagues in the Automotive Computing and Transportation Enterprises are banking on the ever-growing popularity of Smartphones to help break people's dependency on personal cars. After placing GPS transmitters on the fleet of busses, the teams have been able to design a web site that shows where the busses are, where they've been, where they're going and how long it takes to get from one location to the next.
"Right now, we're installing and testing the GPS trackers, and next year we hope to launch an Android app for Smartphones so riders can pull up the web site information on their phones," Wiegand said.
The Enterprises are not the only transportation experts on campus, though. Pasi Lautala, assistant research professor of civil engineering and director of Michigan Tech's Rail Transportation Program, says it's imperative to strike a balance between different—sometimes competing—interests in order to have an effective transportation system.
"If you want to have a functioning transit system, you need to move not only people and goods, but also information and money," he said. "If you can figure out how to do all three, that's when it's a success. With the Enterprise teams' GPS system, they're moving information."
Bill Leder, a civil engineering professor whose courses cover the field of public transit from road to rail, agrees with Lautala that the future of public transit will be all about balance—even in smaller towns, like Michigan Tech.
"We've seen a shift to public transit use with the dramatic increases in fuel prices," said Leder. "Bus systems are relatively inexpensive compared to other options, especially for smaller areas, and they can be very effective. We're seeing a mode shift from personal vehicles to other forms of transportation. That's the kind of smart growth we need to help us move away from an automobile-centric society."
Leder says that the keys to a successful bus system include lowering the headway time of the system—the maximum amount of time a rider might have to wait between bus arrivals at one stop—and a convenient way to pay the fare.
"There's been a big movement away from using physical currency," he explained.
Since students now can use their campus ID cards for many services—from library check-out to a reloadable debit card—it made sense for the proposed transit system to offer a coin-free ride for students. The Enterprise teams hope to equip busses with ID swipes that link riders to a pre-paid transit account, which could even be rolled into tuition.
Working with city bus lines to implement a reliable, predictable, coin-free system is precisely what Wiegand's group hopes will attract loyal riders.
"We need to continue to all work together to address transportation problems," said Lautala. "Tomorrow's transportation is everybody's business."
Michigan Technological University is a public research university, home to more than 7,000 students from 54 countries. Founded in 1885, the University offers more than 120 undergraduate and graduate degree programs in science and technology, engineering, forestry, business and economics, health professions, humanities, mathematics, and social sciences. Our campus in Michigan's Upper Peninsula overlooks the Keweenaw Waterway and is just a few miles from Lake Superior.