Back to the Future: Mining Engineering Returns to Tech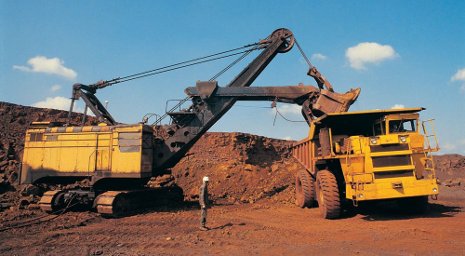 Beginning in fall 2012, Michigan Technological University will offer a Bachelor of Science in Engineering with a technical emphasis in mining engineering, the first step in moving toward a Bachelor of Science in Mining Engineering.
"It's not your grandfather's mining anymore," says Wayne Pennington, chair of geological and mining engineering and sciences. "Mining today is so different, and this new program will be tailored to that."
It will be interdisciplinary, he said, involving faculty from across campus and a number of new courses.
"It will be accredited," Pennington says, "since it is part of the BSE program. And, of course, it's a great use of the science and engineering available at Tech."
The program will be administered through the Department of Geological and Mining Engineering and Sciences, and an advisory board will be formed, representing industry, academia, and government expertise, to help direct the program, Pennington added.
"It's part of our heritage, and it's part of the future, too," added Leonard Bohmann, associate dean of engineering. "There's a definite need for mining engineers, now and into the future. We are positioned where we can help fill that need."
That need extends far beyond renewed local mining concerns, Bohmann said.
"There's a global need for mining engineers," Bohmann said. "And getting this degree up and running will help us put together a mining program. This is a quick way of getting started."
Although it's tough to gauge future enrollments, Pennington thought 30 to 50 students were not out of the question. Additional faculty members could be needed some day, too, Bohmann added.
Professor Emeritus Allan Johnson, a former mining faculty, was pleased about the new degree.
"It's just great," he said. "The people who get mining degrees get good-paying jobs."
Johnson cited another reason for the renewed interest in mining.
"In the last half-dozen years, the price of all the mineral products and metals are high," he said. "Wealth is generated from natural resources."
"The world needs people to run mining operations that control costs, are safe, and don't damage the environment," Johnson added. "That takes intelligence, excellent training and experience."
Pennington officially announced the new degree program at the Society of Mining, Metallurgy and Exploration conference in Marquette, Wednesday, April 25.
Michigan Technological University is a public research university, home to more than 7,000 students from 54 countries. Founded in 1885, the University offers more than 120 undergraduate and graduate degree programs in science and technology, engineering, forestry, business and economics, health professions, humanities, mathematics, and social sciences. Our campus in Michigan's Upper Peninsula overlooks the Keweenaw Waterway and is just a few miles from Lake Superior.