Air Power Can Blow Holes in Soda Cans; You Can Walk on Water Michigan Tech Mind Trekkers Brings the Mysteries of Science to Washington, DC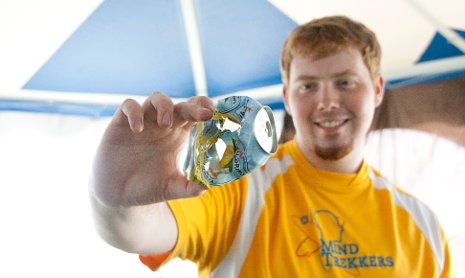 A karate master can break a brick with his bare hands, and children visiting the Michigan Tech Mind Trekkers exhibit at the 2nd USA Science & Engineering Festival at the Washington Convention Center this weekend can hurl a ping pong ball right through a soda can—learning for themselves the physics of air pressure.

The ping pong cannon is just one of more than a dozen mind-blowing science and engineering demonstrations that Mind Trekkers are bringing to the nation's largest celebration of science and engineering. Visitors will also get to walk on water—or at least on ooblek, a non-Newtonian fluid made of cornstarch and water that supports a person's weight as long as they move across it fast, miring them in the sticky mess if they slow down.

Mind Trekkers has traveled from the Upper Peninsula of Michigan to bring their explosive, hands-on science and engineering road show to the nation's capital. Their demos are designed to interest young people in science and engineering by showing them the science behind the magic.

A free weekend event, the Science & Engineering Festival is hosted by Lockheed Martin. It will be at the Walter E. Washington Convention Center. It caps a month of events throughout the nation and in several foreign countries to develop young students' interest in STEM (science, technology, engineering and mathematics).

The Festival Expo -- with its fascinating array of hands-on and stage shows, coupled with up-close interaction with renowned innovators, and top researchers and celebrities in science and engineering -- has rapidly evolved into a must-see event for families, students and others across the country and globe.

From humble beginnings in 2009 as an offshoot of Michigan Tech's Pre-College Outreach program, Mind Trekkers has grown into a thriving venture that nonprofits, schools and commercial sponsors vie to attract to their areas. Enthusiastic student volunteers have taken the road show to Green Bay, Sault Ste. Marie, Mich., Knoxville, Tenn. and Washington, DC. They performed at the giant Boy Scout Jamboree. Mind Trekkers Director Steve Patchin estimates that so far, hundreds of thousands of school children and parents have been captivated by the Mind Trekkers' science spectacular.
Michigan Technological University is a public research university, home to more than 7,000 students from 54 countries. Founded in 1885, the University offers more than 120 undergraduate and graduate degree programs in science and technology, engineering, forestry, business and economics, health professions, humanities, mathematics, and social sciences. Our campus in Michigan's Upper Peninsula overlooks the Keweenaw Waterway and is just a few miles from Lake Superior.