Michigan Tech Faculty, Students Honored for Great Lakes Research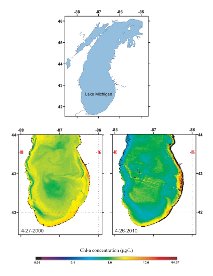 The image on the left shows a high concentration of chlorophyll in southern Lake Michigan. The image on the right, taken 10 years later, illustrates how the concentration of chlorophyll-bearing plankton has dropped.
September 29, 2011—
The International Association for Great Lakes Research has honored five Michigan Technological University faculty members and students.

The Chandler-Misener Award for the outstanding article published in the Journal of Great Lakes Research (JGLR) in 2010 was given to coauthors Professor W. Charles Kerfoot and PhD student Foad Yousef of the biological sciences department, chemistry Professor and Chair Sarah A. Green, former faculty member Judith W. Budd, and David J. Schwab and Henry A. Vanderploeg of NOAA.

Their paper, "Approaching Storm: Disappearing Winter Bloom in Lake Michigan," documented the disappearance of a "doughnut" of phytoplankton in southern Lake Michigan associated with the proliferation of quagga mussels. 

The award was presented to Kerfoot at the 54th International Conference on Great Lakes Research in Duluth, Minn. The Chandler-Misener Award acknowledges the most notable paper based on originality, contribution and presentation.

Cory McDonald, a recent PhD graduate in environmental engineering, received the JGLR/Elsevier Young Student Award. This award is given to "emerging young scientists with a JGLR article ranked in the top 10, as determined by the IAGLR Chandler-Misener Review Committee." Recipients receive a complimentary one-year IAGLR membership and a $750 cash prize.
Michigan Technological University (www.mtu.edu) is a leading public research university developing new technologies and preparing students to create the future for a prosperous and sustainable world. Michigan Tech offers more than 120 undergraduate and graduate degree programs in engineering; forest resources; computing; technology; business; economics; natural, physical and environmental sciences; arts; humanities; and social sciences.