Michigan Tech to Dedicate New Solar Energy Research Center
By Marcia Goodrich | Published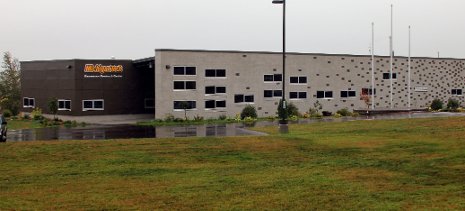 The Keweenaw Research Center (KRC) will dedicate Michigan Technological University's first facility devoted to solar energy research on Wednesday, Sept. 28, at 9 a.m.
The Michigan Tech Solar Photovoltaic Research Facility includes an array of solar panels and an advanced energy-monitoring system at KRC's Engineering Design Building, near the Houghton County Memorial Airport. The two-kilowatt system will generate enough energy to charge all of the electric snowmobiles competing in the SAE Clean Snowmobile Challenge, held at KRC every March.
But this photovoltaic system isn't just about saving money on the electric bill. "The new facility will be used primarily to advance solar-energy research and education," said KRC Director Jay Meldrum.
The complete AC module system—including solar panels, microinverters and monitoring system—represents a new way to harvest solar energy that is making solar more affordable, productive and reliable. SolarBridge Technologies, of Austin, Texas, has provided 10 state-of-the-art microinverters, which convert each panel's DC current into AC current compatible with household use. In addition, SolarBridge has donated equipment and software for managing and monitoring the system.
Dow Corning, of Midland, and Hemlock Semiconductor, a partially owned subsidiary of Dow Corning based in Hemlock, are donating a variety of solar panels made by a number of manufacturers. Dow Corning produces the silicones used in making the panels. Hemlock Semiconductor manufactures polycrystalline silicon, the black, glass-like material on the panels' surface which absorbs sunlight.
Several Michigan Tech researchers will study the solar panels and the microinverters, evaluating the different designs and materials. Their work will enable manufacturers to develop higher-quality systems that are even more efficient and cost-effective.
"Recent advances are driving solar power closer to wide-scale adoption, and discoveries made at the Solar Photovoltaic Research Facility will accelerate that process," said Ron Van Dell, president and CEO of SolarBridge and a 1979 electrical engineering graduate of Michigan Tech. "SolarBridge is proud and excited to be part of this groundbreaking effort."
The facility will also provide opportunities for undergraduate work. KRC has a small weather station, and students in the Alternative Fuels Group Enterprise will correlate the solar cells' output with local weather conditions. Their advisors are Meldrum and Wenzhen Li, assistant professor of chemical engineering.
Student involvement is a key component of the project, said Billy Huss, global productivity manager for Dow Corning and a 1983 chemical engineering graduate of Michigan Tech. "Both Dow Corning and Hemlock Semiconductor are proud and happy to make this possible for the University, and we're excited about the research potential," he said. "But it's equally important for us that the center will help Tech students learn about solar energy systems and prepare them for employment in the field. That's a win-win-win situation, for the students, our industry and for society."
KRC is known for its research relating to snow and ice, so it might not seem like an ideal location for studying solar-energy systems. But the region's demanding weather provides a big advantage, says energy researcher Joshua Pearce. "This will allow us to evaluate solar-energy systems in real-world conditions," said Pearce, an associate professor who holds a dual appointment in the Departments of Materials Science and Engineering and Electrical and Computer Engineering. "The critical mass of Michigan Tech faculty, staff and students with related interests represents a massive potential to do photovoltaic research here, and we hope to expand the facility."
Other Michigan Tech faculty members using the Solar Photovoltaic Research Facility are Julie King of the chemical engineering department; Bruce Mork and Paul Bergstrom, electrical and computer engineering; Fernando Ponta, mechanical engineering–engineering mechanics; and Stephen Hackney, Miguel Levy, Yun Hu and Peter Moran, materials science and engineering.
Van Dell and Huss will attend the dedication, along with Dave Kraycsir and Stephen Trombley, both of Hemlock Semiconductor. The public is invited.
Michigan Technological University is a public research university, home to more than 7,000 students from 54 countries. Founded in 1885, the University offers more than 120 undergraduate and graduate degree programs in science and technology, engineering, forestry, business and economics, health professions, humanities, mathematics, and social sciences. Our campus in Michigan's Upper Peninsula overlooks the Keweenaw Waterway and is just a few miles from Lake Superior.