Michigan Tech Rolls Out Emergency Medical Response Team
By Danny Messinger | Published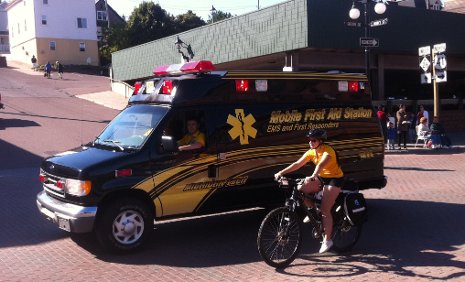 A group of more than 30 Michigan Technological University students and several faculty and staff members are now prepared to provide emergency medical services to the campus community.
The Department of Public Safety and Police Services is rolling out a new program—dubbed Michigan Tech Emergency Medical Services (MTEMS)—designed to provide care anywhere on Tech property in the crucial minutes before an ambulance can arrive on-scene.
"The group volunteers for emergency medical services," said Dan Bennett, director and chief of public safety. "They provide help until an ambulance shows up, and any help needed once the ambulance is actually there."
When he arrived at Tech over two years ago, Bennett saw a need for an on-campus medical response service that could assist during emergencies—a need now fulfilled.
Last fall, Bennett and Jonathan Stone, emergency medical services director, contacted students, searching for those with medical training or who wanted to have medical training. Through collaboration with Jason Carter, kinesiology and integrative physiology department chair, about 40 students have been able to earn physical education credit while working toward their medical first responder certification.
Mercy Emergency Medical Service donated an ambulance to the program, which has been retrofitted to provide emergency services instead of transporting patients.
"We've had incredible support to get the program running," said Bennett.
Portage Health, President Glenn D. Mroz, Vice President for Student Affairs Les Cook and Vice President for Administration Ellen Horsch were all instrumental.
"Portage donated $5,000," Bennett added. "They really understand the value of this partnership."
Tim Ward, computer science student and MTEMS volunteer, said the program is helpful for both members of the campus community as well as the larger Keweenaw community.
"A large portion of medical calls to 911 don't need transport to the hospital," said Ward. "We're here to mitigate those types of calls. We provide the same type of care that comes with an ambulance—without the transport—which frees up the ambulances for other calls."
A large team of volunteers assures there is always qualified medical assistance available.
"Our volunteer shifts are multiple days long," said Ward. "We have our radios with us and are on-call for a few days at a time."
Bennett believes this program provides the Tech community with a crucial service. By being on call 24 hours per day and having a presence at many sporting events and campus events, such as K-Day and Winter Carnival, he says the help the team provides is invaluable.
"It's all about community, staff and students working together for the common good," he said.
Michigan Technological University is a public research university, home to more than 7,000 students from 54 countries. Founded in 1885, the University offers more than 120 undergraduate and graduate degree programs in science and technology, engineering, forestry, business and economics, health professions, humanities, mathematics, and social sciences. Our campus in Michigan's Upper Peninsula overlooks the Keweenaw Waterway and is just a few miles from Lake Superior.