Michigan Tech Mind Trekkers Take Science Fun to Knoxville
By Jennifer Donovan | Published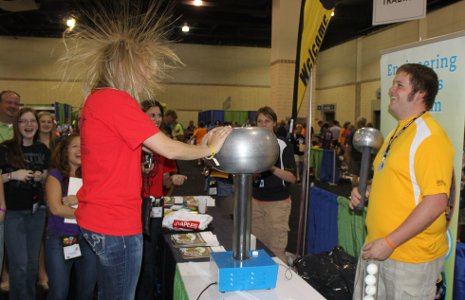 Michigan Technological University's Mind Trekkers, a travelling science show produced by the University's Center for Precollege Outreach, packed up some of its most engaging hands-on activities and hauled them to Knoxville, Tenn, this week to perform at the Global Finals of Destination ImagiNation, an international science competition. Student volunteers and Michigan Tech staff will be showing youngsters there how to make liquid nitrogen ice cream, electrify their hair with a Van de Graaff generator and "walk on water" (actually, on oobleck, a non-Newtonian fluid that acts like a solid under pressure).
Mind Trekkers is participating in Destination ImagiNation's Innovation Expo, featuring science-focused organizations and companies such as NASA, Texas Instruments, Volvo and the US Air Force. Michigan Tech is the only university presenter. Sponsors of the exhibition are IBM, 3M and Motorola.
The event begins Wednesday, May 25, and runs through Saturday, May 28 at the University of Tennessee at Knoxville. More than 14,000 young people from 50 states and 49 countries are participating.
The Innovation Expo will be open from 10 a.m. to 5 p.m. Wednesday, 9 a.m. to 4 p.m. Thursday and Friday, and 9 a.m. to 3 p.m. Saturday in the Knoxville Convention Center Exhibit Hall B.
We're taking Mind Trekkers to Destination ImagiNation to continue our mission of turning as many students, families and communities as possible on to the incredible opportunities of careers in science, technology, engineering and math (STEM)," said Cody Kangas, assistant director of pre-college outreach at Michigan Tech. "This venue is a perfect fit for Michigan Tech, since some of the brightest young minds in the world will be together in one place, participating in activities that will make them stretch their minds," Kangas continued. "As students are getting their 'geek' on, Mind Trekkers will be right there with them, showing them that science can be a blast."
Last summer, Mind Trekkers performed at the national Boy Scout Jamboree, and in October, 2010, the group participated in the first USA Science and Engineering Expo in Washington, DC. More recently, they have taken their hands-on science show to Detroit, Green Bay, Wis., and across the Upper Peninsula of Michigan.
To learn more about Mind Trekkers, see https://www.mtu.edu/mindtrekkers/.
Michigan Technological University is a public research university, home to more than 7,000 students from 54 countries. Founded in 1885, the University offers more than 120 undergraduate and graduate degree programs in science and technology, engineering, forestry, business and economics, health professions, humanities, mathematics, and social sciences. Our campus in Michigan's Upper Peninsula overlooks the Keweenaw Waterway and is just a few miles from Lake Superior.