Ford and Michigan Tech Team Up to Imagine a Better Bus System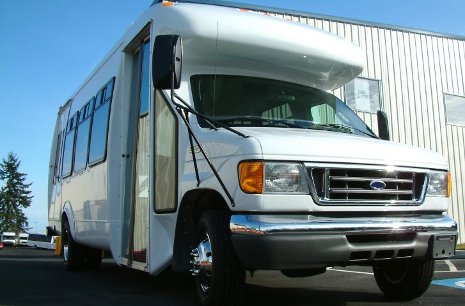 Do you ever ride the bus in Houghton and Hancock? Would you, if it were more convenient?
Soon it may be. Michigan Technological University Enterprise students have received a Ford College Community Challenge (Ford C3) grant to study the existing mass transit system in Houghton and Hancock and develop a model that would be more sustainable economically, environmentally and socially.
Michigan Tech's Transportation Enterprise and Automotive Computing Enterprise (ACE) won the $50,000 competitive grant. Enterprises are teams of students who take on real-world problems and—with industry partners—use their Tech education to find practical solutions.
Ford C3 is a national challenge grant competition that recognizes colleges and universities that use a school's resources to address an urgent community need related to the grant's theme: Building Sustainable Communities. Proposals are expected to incorporate the use of alternative energy in a unique way. Unlike many traditional college grant programs, Ford C3 requires colleges to create proposals that have significant student input, involvement and leadership from beginning to end. Given this requirement, winning proposals have a distinctive student perspective on what it means to have a sustainable community.
This is the second Ford C3 award that Michigan Tech has received. The first, in 2009, supported undergraduates to work with high school students and community partners to expand a home winterization project for low-income elderly residents of the community.
"We consider Michigan Tech to be a valuable partner in our efforts to keep Michigan's economy strong while delivering on our commitment to social and environmental sustainability around the world," said Mike Schmidt, director of education and community development with the Ford Motor Company Fund. "With this grant, our intent is to help Michigan communities create more sustainable transportation strategies."
Michigan Tech's Transportation Enterprise and ACE will partner with representatives of the Cities of Houghton and Hancock, public transportation experts on the Michigan Tech faculty, an industry advisor who is also a Michigan Tech alumnus and the Western UP Planning and Development Region (WUPPDR).
"One of the city's goals is to reduce the traffic and parking congestion around the University," said Houghton City Manager Scott MacInnes. "We are hoping the Enterprise team will find a way to encourage more people to use public transportation and make the transit system as efficient as possible."
Glenn Anderson, Hancock city manager, said: "I look forward to working with Michigan Tech students on ways the city can improve transit operations and address efficiencies."
Danielle Terry, a civil engineering student and member of the Transportation Enterprise at Michigan Tech, worked on the proposal for the grant. "This generous grant from Ford will help push the community in a more sustainable direction," she said. "This project is special because it not only provides a one-of-a-kind educational opportunity, but it also has the potential to affect the whole community in a positive way."
Terry went on to say that as a commuter student, she would welcome a reliable, cost-effective transit system to ease both parking and traffic congestion problems at Michigan Tech. "The system could be an incredibly efficient alternative for students who drive to campus every day," she remarked.
The Transportation Enterprise will evaluate existing mass transit service. Students will be conducting interviews with bus riders and other community residents and distributing questionnaires. They will then design and implement a sustainable model bus system
ACE will identify the hardware needed and create the software necessary to do real-time tracking and scheduling of transit vehicles, said John Lukowski, associate professor of electrical and computer engineering and faculty advisor to the Enterprise.
The project includes two solar-powered bus shelters with covered bike parking, a smart-phone app and a schedule board. Alternative-fuel vehicles will also be considered.
"This project will provide a great opportunity for our students to understand the complexities of planning and operating a transit system and explore ways to improve the system and provide better passenger service," said Bill Sproule, professor of civil and environmental engineering at Michigan Tech. Sproule, a public transportation specialist, heads the Houghton Transit Board.
"Taxpayers today are demanding that owners of transportation infrastructure accomplish more with less. The Ford C3 challenge will not only provide Houghton and Hancock with sustainable transit options to maximize the value of their transportation dollar, but will also give students a unique opportunity to gain experience in cutting edge technologies with real-world constraints," said Eric Morris., an industry consultant to the project. A civil engineering alumnus of Michigan Tech, Morris heads intelligent transportation systems for HNTB, an infrastructure consulting firm in East Lansing, Mich.
"The type of experience these students will gain on this project isn't usually available even to graduate engineers," he said. "It will ultimately place them at the top of many hiring managers' lists."
The mass transit project embodies Michigan Tech's vision of preparing students to "create the future," said George Dewey, associate professor of civil and environmental engineering and faculty advisor to the Transportation Enterprise, "This project has the potential to produce a genuine change for the better in our community."
---
Ford Motor Company Fund and Community Services works with community partners to advance driving safety, education and American heritage and community life. The Ford Motor Company Fund has operated for more than 60 years with ongoing funding from Ford Motor Company. The award-winning Ford Driving Skills for Life program teaches new drivers through a variety of hands-on and interactive methods. Innovation in education is encouraged through national programs that enhance high school learning and provide college scholarships and university grants. Through the Ford Volunteer Corps, more than 27,000 Ford employees and retirees each year work on projects that better their communities in dozens of countries. For more information, visit www.community.ford.com
Michigan Technological University is a public research university, home to more than 7,000 students from 54 countries. Founded in 1885, the University offers more than 120 undergraduate and graduate degree programs in science and technology, engineering, forestry, business and economics, health professions, humanities, mathematics, and social sciences. Our campus in Michigan's Upper Peninsula overlooks the Keweenaw Waterway and is just a few miles from Lake Superior.