Community Service Tradition Earns Two Tech Students Statewide Awards
By Jillian Schwab | Published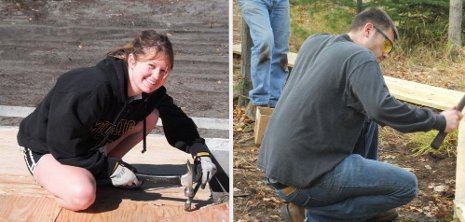 The Michigan Campus Compact (MCC) honored Tech undergraduates Tristram "Trish" Hokenson and Josh Strapec at its 15th annual Outstanding Student Service Awards celebration in East Lansing earlier this month. Hokenson and Strapec received the 2011 MCC Heart and Soul Award for their outstanding community service efforts. The annual award recognizes undergraduate and graduate students for their commitment to community service.

Hokenson, who walks shelter dogs and builds Habitat for Humanity house, can't remember when she started doing volunteer work. Through her church and high school Key Club, she says, she would make and deliver Thanksgiving dinners, go Christmas caroling, put on fundraisers for UNICEF and educate students about drug abuse.
A fifth year civil engineering student, Hokenson is from Wayland, Mich.
Since she's been at Tech, Hokenson walks dogs at the Copper Country Humane Society. She even ended up adopting one of them. She participates in the Sledheads Snowmobile Club's annual Charity Ride from Houghton to Ironwood, an event that has raised more than $1,000 for various charities. President of Michigan Tech's Habitat for Humanity, she has helped build houses in Florida and Texas on Habitat for Humanity's Alternative Spring Break trips. She has also helped with Open House and Preview Day every year since coming to Tech in 2006.
Alternative Spring Break is a program that offers Tech students the opportunity to spend their spring break giving back to the community. Students can pick a number of different kinds of service trip to different destinations. Last year, Tech students taking an Alternative Spring Break helped students from Puerto Rico's Polytechnic University build a path through a forest, tidied up the Everglades/Biscayne National Park, and helped with trail and campground maintenance at Merced River, Cal.

Habitat for Humanity is an international nonprofit Christian mission organization founded in 1976 on the belief that every man, woman and child should have a safe and affordable place to live. Habitat for Humanity volunteers work with families in need to build safe and affordable homes, as well as rebuilding homes destroyed in natural disasters or civil unrest. Habitat for Humanity also offers nonprofit, no-interest mortgage loans.
"I was actually quite surprised when I first found out about the award," says Hokenson. "I heard that it was on the radio, and all my professors were sending me emails and notes about it. I felt excited to receive the award, but that's when I really started to understand what an honor it is."
Strapec, who is a fourth year student in environmental engineering, has been active in Greek life at Michigan Tech. He is president of Sigma Phi Epsilon fraternity and has served on the Interfraternity Council. He also has volunteered to pick up trash and clean local parks, as well as Michigan Tech's campus. He participated in the Relay for Life and Make a Difference Day. Strapec hails from Elsie, Mich.
"I was very honored to receive the Heart and Soul Award," Strapec said. "I learned the importance of helping other people and the community through my family—mostly through my mother, Lucy, who is one of the most selfless people I know, and through my fraternity, Sigma Phi Epsilon. Virtue, one of my fraternity's cardinal principles, means doing the right thing even when no one is looking. I try to live by this principle.
Michigan Campus Compact is a 42-member coalition of presidents of Michigan colleges and universities. Its mission is to encourage college students to be civically engaged citizens through community service, service learning and civic engagement.
Michigan Technological University is a public research university, home to more than 7,000 students from 54 countries. Founded in 1885, the University offers more than 120 undergraduate and graduate degree programs in science and technology, engineering, forestry, business and economics, health professions, humanities, mathematics, and social sciences. Our campus in Michigan's Upper Peninsula overlooks the Keweenaw Waterway and is just a few miles from Lake Superior.