General Motors Gives More Support to Michigan Tech
By Jennifer Donovan | Published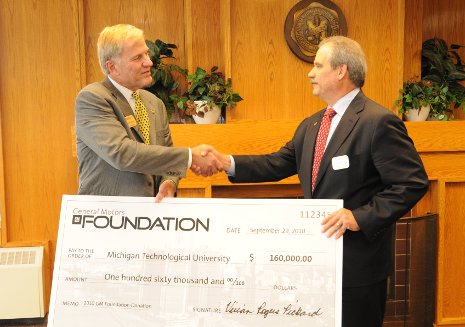 The General Motors Foundation has donated $160,000 to Michigan Technological University to help support its Advanced Motorsports Enterprise, College of Engineering Senior Design, diversity programs, Career Services and student chapters of professional societies.
The gift brings the total GM has contributed to Michigan Tech this year to nearly $250,000. A longtime supporter of Michigan Tech, GM has given more than $8.3 million to the University over the past 35 years.
"GM's steadfast and generous support of Michigan Tech deserves a special kind of thanks," said President Glenn D. Mroz. "Despite its recent financial challenges, GM has stood by Michigan Tech as a loyal and deeply valued corporate partner. "
Terry Woychowski, vice president of global vehicle program management at GM and a Michigan Tech alumnus, thanked the University in turn for helping lead the industry in new directions in vehicle design and manufacture.
"The automotive industry is changing at an unprecedented and seemingly exponential rate," Woychowski said. "Whereas in the past the automobile was primarily driven by an internal combustion engine burning gasoline and controlled with discrete mechanical systems, it is quickly evolving to highly advanced and electrified powertrains and completely integrated control systems for steering, braking and powertrain controls."
"General Motors appreciates and supports the tremendous work that Michigan Tech is doing to help lead the industry into this exciting frontier," the GM executive went on to say. "From undergraduate training to the graduate and research programs, Michigan Tech is helping to prepare the work force and providing the knowledge required to meet these engineering challenges."
More than 1,100 Michigan Tech graduates have made their careers with GM.
Michigan Technological University is a public research university, home to more than 7,000 students from 60 countries. Founded in 1885, the University offers more than 120 undergraduate and graduate degree programs in science and technology, engineering, forestry, business and economics, health professions, humanities, mathematics, and social sciences. Our campus in Michigan's Upper Peninsula overlooks the Keweenaw Waterway and is just a few miles from Lake Superior.