Blizzard is Happy to be Home
By Jennifer Donovan | Published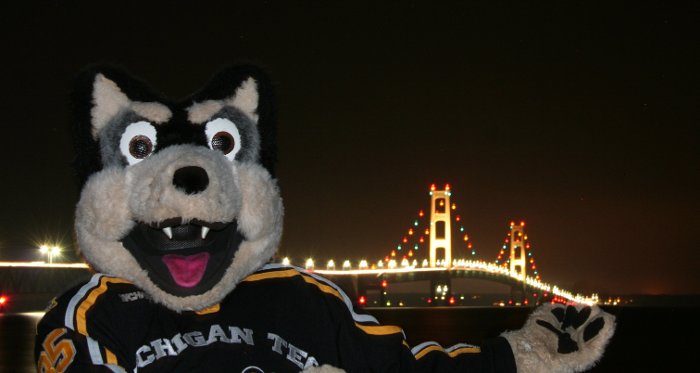 Blizzard T. Husky is back on campus. Due to bad weather, electrical problems and other space-age gremlins, the space shuttle launch that he traveled to the Kennedy Space Center in Florida to see did not occur. But Blizzard calls the trip a great success anyway.
"I had a wonderful time bringing Michigan Tech down to Florida and seeing NASA," he says. "I don't regret going. I look at all I did with my time in Florida and chuckle (even if it sounds a little like a growl), knowing that I put smiles on the faces of NASA staff and met Michigan Tech alumni and made families laugh when I was on the beach."
As far as the NASA staff could tell, Blizzard was the first mascot to visit the Kennedy Space Center.
Blizzard urges everyone to try to make a trip to either Kennedy or Johnson Space Center. "The amount of history in those walls is astounding. It documents some of the greatest engineering accomplishments of this dog's time."
Mascot to the Michigan Tech Huskies, Blizzard headed south to see the space shuttle Discovery launch originally scheduled for Nov. 1. The launch was delayed again and again, until on Nov. 6, Blizzard finally had to give up and head back home.
Blizzard paid most of his own way to Florida, with help from a private supporter of Michigan Tech athletics.
The big furry fellow stopped in Chicago and Augusta, Ga., on his way to the Cape. In Augusta, he had a chance to shake paws with alumnus Larry Robillard ('80).
While he was in Florida, Blizzard toured the Kennedy Space Center, clambered into a gravity-force simulator, frolicked on the beach, met Knightro, the University of Central Florida's mascot, and visited Ron Jon's famous Surf Shop in Cocoa Beach. On the beach, he met two more Tech alumni, Doug Mathews ('73) and Josh Mathews ('96), who had ridden motorcycles from Indianapolis to Florida and won tickets to the space shuttle launch.
On the way back to Houghton, the big, friendly Husky dropped in at Georgia Tech, trotted past the renowned golf courses at Augusta, Georgia, visited the Michigan Tech Research Institute in Ann Arbor, Mich., and had his picture taken in front of the colored lights that trim the 5-mile-long Mackinac Bridge.
"The most exciting part of the trip was the g-force simulator," Blizzard barks. "That was quite the experience. The world spun around me. It makes me want to tip my hat to those who work in such extreme conditions."
Blizzard has been Michigan Tech's mascot since he was named in a campus contest in 1997. His middle initial, T, stands for The. In other words, he is Blizzard The Husky.
As a sports teams' mascot, naturally Blizzard attends all the Michigan Tech Division I hockey and Division II football, basketball, volleyball and soccer games, but he is a busy dog even when the rink and field are dark. He helped McGruff the Crime Dog teach about crime prevention during National Night Out in August; he went bowling with students and their parents at Family Weekend; he rode a small sled on skis during Homecoming; and he posed for a "wash your paws" poster, part of a campus campaign to prevent the spread of flu virus last winter.
Michigan Technological University is a public research university, home to more than 7,000 students from 54 countries. Founded in 1885, the University offers more than 120 undergraduate and graduate degree programs in science and technology, engineering, forestry, business and economics, health professions, humanities, mathematics, and social sciences. Our campus in Michigan's Upper Peninsula overlooks the Keweenaw Waterway and is just a few miles from Lake Superior.