Local High School Students Get Innovative for National Lab Day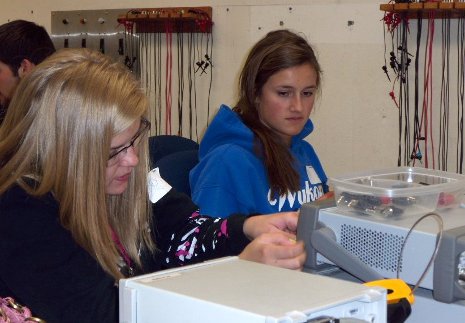 "If you could do or be anything, what would it be?"
In the Integrated Microsystems Enterprise lab deep within Michigan Technological University's Electrical Energy Resources Center, a group of high school students pondered the question. Soon, they began calling out answers. Doctor. Astronaut. Research scientist.
Their group leader—Michigan Tech student and IME project leader Dan Satchell—nodded his head. "You're on your way."
And they are. Though post-collegiate careers are many years off for these students, they got a head start this week by attending National Lab Day. It's a nationwide movement through the "Educate to Innovate" campaign that is working to bring science, technology, engineering and mathematics (STEM) professionals and teachers together to provide high-quality, discovery-based laboratory experiences for students.
Michigan Tech's Youth Programs answered the call by hosting a day of hands-on lab activities for more than 150 tenth and eleventh graders from throughout the western Upper Peninsula of Michigan. Students were treated to a presentation by Tech's exercise science, health, and physical education department before dispersing into smaller groups to try their hands at projects in twelve of the University's laboratories.
In a forestry lab, students got a feel for the field by learning soil characterization with the School of Forest Resources and Environmental Science's Christopher Hohnholt; meanwhile, across campus, another group performed experiments to test magnetic forces with faculty in one of the University's physics labs.
One student summed it up best while observing a faculty demonstration about the forces that propel shuttles into space—"This is sweet!"
According to Cody Kangas, coordinator of Youth Programs, the goal of the event was to open Michigan Tech's doors and provide students a closer look at the opportunities available to them after high school.
"There is such a tremendous variety of choices that STEM fields can offer students," Kangas said. "We wanted to open their eyes to the unlimited possibilities that exist in STEM-based careers."
Michigan Technological University is a public research university, home to more than 7,000 students from 54 countries. Founded in 1885, the University offers more than 120 undergraduate and graduate degree programs in science and technology, engineering, forestry, business and economics, health professions, humanities, mathematics, and social sciences. Our campus in Michigan's Upper Peninsula overlooks the Keweenaw Waterway and is just a few miles from Lake Superior.