Three Sleds Complete Clean Snowmobile Challenge Endurance Run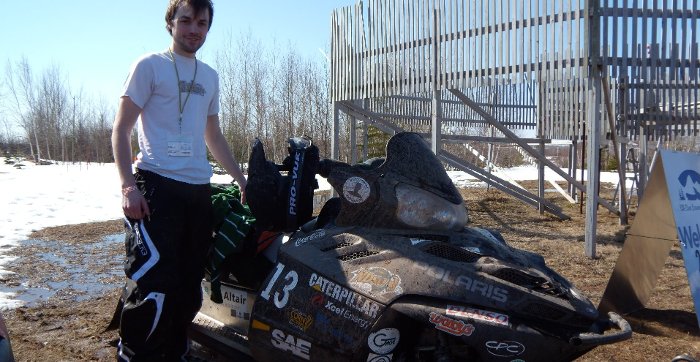 Neither sun, nor mud, nor halcyon breezes could keep three hardy entries in the 2010 SAE Clean Snowmobile Challenge from completing the Endurance Run: North Dakota State University, the University of Wisconsin-Madison, and the University of Minnesota-Duluth.
The Clean Snowmobile Challenge is a collegiate design competition of the Society of Automotive Engineers. Engineering students from participating schools take a stock snowmobile and reengineer it. Their aim: to reduce emissions and noise while maintaining or boosting performance. The Challenge also includes a zero emissions division for battery-powered sleds. The Keweenaw Research Center co-hosts the event with the Department of Mechanical Engineering-Engineering Mechanics at Michigan Technological University.
During the Endurance Run, entries in the Challenge's zero emissions division competed in a range test and were judged by how far their battery-powered snowmobiles could travel. Clarkson University went 10 miles, the farthest on a single charge, followed by McGill University in second. Wisconsin-Madison's zero emissions entry was third followed by South Dakota School of Mines and Technology, fourth.
The Endurance Run course, which usually stretches up to a hundred miles and involves a trek north to Copper Harbor, is designed to test the entries' reliability under trail conditions. It was truncated this year to address unseasonably balmy conditions. With the region's snowmobile trails out of commission weeks ahead of schedule, the drivers drove their sleds about 40 miles completing laps around a test track near the Keweenaw Research Center.
The three sleds that finished the Endurance Run were spattered with mud, as were their drivers. Sam Cassibo of Minnesota-Duluth characterized the ride as "warm and muddy." Wisconsin-Madison's Shawn Spannbauer described it as "like a wrestling match," and Derek Pokrzywinski of North Dakota State agreed. "It was rough—pretty wet, with lots of mud puddles."
The Michigan Tech sled was forced to withdraw after splashing through a puddle. "It probably shorted out," said Jason Blough, an associate professor of mechanical engineering-engineering mechanics and the team's advisor. "It's about as bad as it can get out there, but everybody likes to at least try," he added. "These students work on the sleds all year, and they want to compete."
Organizers still plan to run the Challenge events on schedule, while adapting to snow conditions as necessary. "We got 'er done today," said co-organizer Jay Meldrum at the end of the Endurance Run. "We had enough snow to do 40 miles, and we'll continue tomorrow as planned."
All the sleds will be on display from 6 to 8 p.m., Wednesday, March 17, at the Copper Country Mall in Houghton. The public is invited to view the custom snowmobiles and talk with the team members.
Michigan Technological University is a public research university, home to more than 7,000 students from 54 countries. Founded in 1885, the University offers more than 120 undergraduate and graduate degree programs in science and technology, engineering, forestry, business and economics, health professions, humanities, mathematics, and social sciences. Our campus in Michigan's Upper Peninsula overlooks the Keweenaw Waterway and is just a few miles from Lake Superior.