Michigan Tech Students Join Massive Statewide Rally in Lansing
By Jennifer Donovan | Published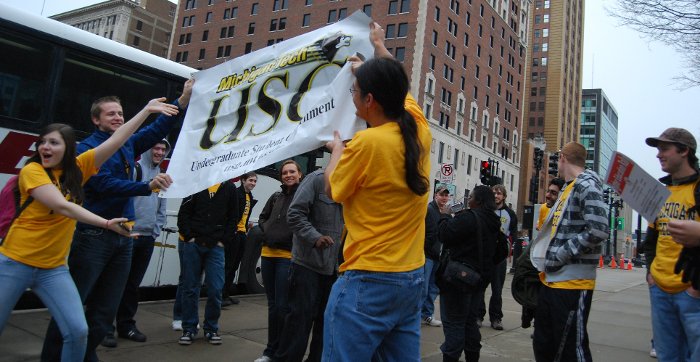 A busload of Michigan Technological University students will join college and university students from across Michigan at a massive rally in Lansing on March 25. They will gather on the lawn in front of the Capitol to protest higher education funding cuts and to urge Michigan's legislators to support higher education adequately.
"Lansing's math doesn't add up," they will tell the state's policymakers.
Michigan Tech's Undergraduate Student Government is organizing Tech's participation in the rally sponsored by the Student Associations of Michigan. Tech's student organizers hope to fill the 47-seat bus, which will leave Houghton for the long ride to Lansing at 8 p.m. on March 24. The bus ride is free.
"I believe that higher education is a priority for Michigan," said Keshon Moorehead, an electrical engineering major from Detroit who chairs the Michigan Tech USG's External Affairs Committee. "I believe in fighting for what's right."
"The state needs to step up," Moorehead added. "And we need to step up and tell them so."
Michigan Tech undergraduates Travis Waineo and Leanna Van Slooten are working with Moorehead on the organizing committee. They have papered the campus with posters and sent fliers inviting students to participate. They are taking reservations for the bus at the USG office in the Memorial Union Building and online.
At least one of them will join a group of students from Michigan's other public universities, entering the legislative chambers and stating their case. SAM has prepared a set of grievances with the state.
Les Cook, vice president for student affairs at Michigan Tech, has written a letter to faculty, asking for their consideration for students who miss classes because they are riding the rally bus to Lansing, The Legislature's elimination this year of the Michigan Promise Scholarship and the Michigan Competitive Grant cost nearly 1,300 students at Michigan Tech $2.2 million, Cook noted.
Michigan Technological University is a public research university, home to more than 7,000 students from 60 countries. Founded in 1885, the University offers more than 120 undergraduate and graduate degree programs in science and technology, engineering, forestry, business and economics, health professions, humanities, mathematics, and social sciences. Our campus in Michigan's Upper Peninsula overlooks the Keweenaw Waterway and is just a few miles from Lake Superior.