How Will Forests Grow as the Climate Changes?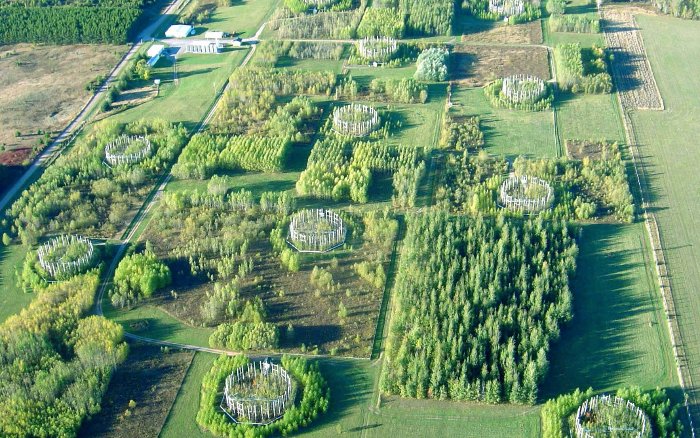 How does a natural forest respond to harvesting under global change conditions?
Michigan Technological University and the US Forest Service Institute for Applied Ecosystem Studies (FS IAES) have received $1.1 million in US Forest Service funding to conduct new research that asks that question.
"Forests grow differently when they are exposed to carbon dioxide, ozone and other pollutants," explained Andrew Burton, a professor in Michigan Tech's School of Forest Resources and Environmental Science. Burton is Michigan Tech's lead investigator on the new research study.
During an earlier research collaboration called the Aspen FACE project, scientists planted aspen and birch trees in 12 circular plots at the US Forest Service test site near Rhinelander, Wis. They then exposed them to elevated levels of carbon dioxide, ozone and a combination of the two, and analyzed the impacts of varying amounts and mixtures of the greenhouse gases on the tree growth, roots, leaves, soil carbon and nutrients, insects and diseases and entire ecosystem carbon storage.
Their main findings were that carbon dioxide caused increased growth; ozone caused reduced growth, and in combination, the negative effects of ozone offset much of the positive effects of CO2.
The new study—at the same site—takes a step back, starting by cutting down all the trees planted during Aspen FACE and letting the forest resprout on its own. Researchers then will use the Aspen FACE technology to expose the new growth to increased levels of carbon dioxide, ozone and a combination of the two.
Richard Norby, a corporate research fellow at the Oak Ridge National Laboratory and principal investigator on another federally-funded FACE project, is glad to see the research continue at Aspen FACE. "The effect of elevated CO2 on forest regeneration has not been well studied, but it could be a very important factor shaping the state of our future forests and the many services they provide. This new research at Aspen FACE will be an important contribution to the nation's global change research portfolio," he said.
"You might call this a prequel to Aspen FACE," said US Forest Service researcher Mark Kubiske. "Last time we planted the trees. This time we are starting with trees that are regenerating of their own accord."
Scientists will be studying what Burton called "the legacy effects" of new trees sprouting from the root system formed under the Aspen FACE treatments, as well as continuing effects of the treatments used on the new growth. They will be simulating the carbon dioxide concentrations expected 50 years from now and ozone concentrations typical of a location closer to larger cities —80 to 100 parts per billion.
"Aspen forests play an incredibly important role in our lives," Kubiske said. "They are extremely important for paper production and as a food source and cover for wildlife. Aspen ecosystems account for about half of the upland hardwood forests throughout the lake states, and they occur all across the US and Canada. We have to be able to predict what will happen to existing forests under global change conditions." Kubiske is the Institute for Applied Ecosystem Studies' lead investigator on the new study.
Michigan Tech will be operating the test site, applying the treatments and monitoring results. The Forest Service will be operating the experiment, monitoring the growth and development of the forests and coordinating research among visiting scientists from the University of Michigan, the University of Nevada-Reno, the University of Wisconsin, DOE's Brookhaven National Laboratory and other collaborators worldwide. More than 80 scientists are expected to participate in the experiment before it is completed.
Michigan Technological University is a public research university, home to more than 7,000 students from 54 countries. Founded in 1885, the University offers more than 120 undergraduate and graduate degree programs in science and technology, engineering, forestry, business and economics, health professions, humanities, mathematics, and social sciences. Our campus in Michigan's Upper Peninsula overlooks the Keweenaw Waterway and is just a few miles from Lake Superior.