Federal Stimulus Funds Help Scientists Control the Emerald Ash Borer Invasion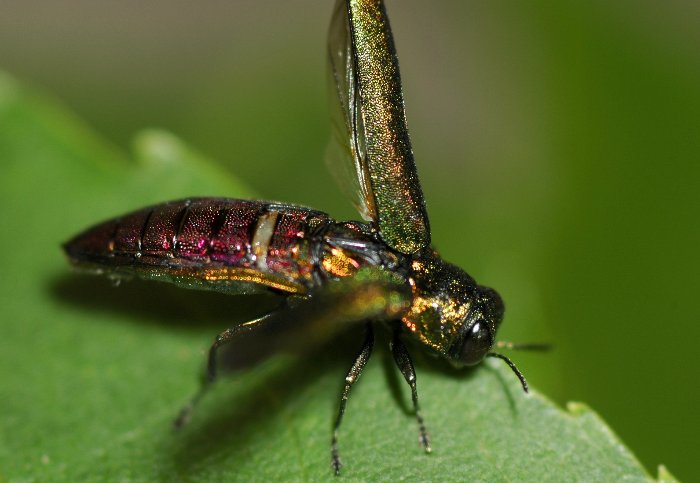 Michigan Technological University has received $650,000 in federal stimulus funding to support a pilot project to reduce ash tree mortality in Michigan's Upper Peninsula. The project, called SLAM (SLow Ash Mortality), is designed to slow the spread of the emerald ash borer and protect the UP's ash trees. The emerald ash borer, an invasive species from Asia, has been discovered in Michigan—including Houghton County—and threatens at least 15 species of native ash.
Michigan Tech will work with Michigan State University, the Michigan Department of Agriculture, the Michigan Department of Natural Resources and Environment, the US Forest Service and the US Department of Agriculture Animal and Plant Health Inspection Service on the project.
Total American Recovery and Reinvestment Act (ARRA) funding for the project is $2.2 million. The work will be done in five counties: Houghton, Keweenaw, Mackinac, Delta and Schoolcraft.
Andrew Storer, a forest insect ecologist at Michigan Tech, said that SLAM will create or maintain 38 full- and part-time jobs, including 9 in Michigan Tech's portion of the project.
Storer, who heads Michigan Tech's Center for Exotic Species in the School of Forest Resources and Environmental Science, has been studying the emerald ash borer since the insects appeared in Michigan. He headed a multi-year US Forest Service project to set up trap trees throughout the state.
He and colleagues identified the first emerald ash borers found on the Keweenaw Peninsula, in an abandoned cemetery in Laurium in the summer of 2008. "Judging by the condition of the trees, they had been here for a number of years," he said at the time.
ARRA money was critical for SLAM, Storer said. "Much of the work needed for the pilot project is labor-intensive," he explained. "We need people out in the field to set up traps and trap-trees, survey ash trees and assess forest health."
Scientists at Michigan Tech and MSU will be analyzing data and developing models to help evaluate and plan effective counter-measures against the emerald ash borer. The strategies that are developed can be used as models for other states with emerald ash borer infestations. So far, the insect pest has been spotted in 13 states and Canada.
The SLAM project will be holding a public meeting for residents of surrounding communities on Thursday March 25, 2010, at 6:30 p.m. in the Calumet-Laurium-Keweenaw Public Schools' multipurpose room. Storer and colleagues will explain the ash borer infestation in the area, what the SLAM project is currently doing and what it intends to do. They will also answer questions.
Michigan Technological University is a public research university, home to more than 7,000 students from 54 countries. Founded in 1885, the University offers more than 120 undergraduate and graduate degree programs in science and technology, engineering, forestry, business and economics, health professions, humanities, mathematics, and social sciences. Our campus in Michigan's Upper Peninsula overlooks the Keweenaw Waterway and is just a few miles from Lake Superior.