New Aerospace Center on Campus
By John Gagnon | Published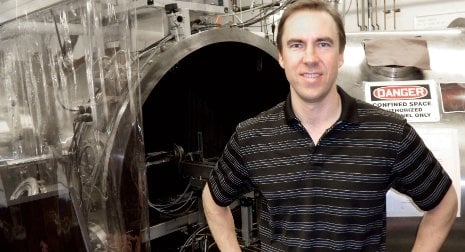 Michigan Technological University, which has been establishing a highly regarded academic program in space technology, now boasts a new center focused on satellites. The Michigan/Air Force Center of Excellence in Electronic Propulsion will focus on satellite thrusters. It has received $1 million in funding for five years.
The aerospace center is housed in Michigan Tech's Department of Mechanical Engineering-Engineering Mechanics. "This is a major accomplishment," said William Predebon, chair of mechanical engineering. "It puts us on the national map."
Six universities comprise the center: Michigan Tech, the University of Michigan (which administers the program), Penn State, the University of Washington, the University of California Los Angeles and Colorado State University.
Lyon (Brad) King, associate professor of mechanical engineering-engineering mechanics, was instrumental in attracting the funding for the center from the Air Force Research Lab and the Air Force Office of Scientific Research. King says that the Air Force, not NASA, is the nation's largest supporter of university research in space propulsion. "They're number one," he notes, "in both investment dollars and the number of devices they launch and use."
King will oversee work on plasma space propulsion systems—thrusters that maintain an orbit or move satellites from one orbit to another. Currently, 250 of the 3,000 space craft in orbit use some type of plasma thruster.
Satellites can be mighty or tiny--the size of a school bus or the size of a cell phone. Likewise, thrusters range from rockets to devices that are the size of a thumb. In his work, King will address thrusters on both the "mega" and "nano"scale.
Traditional thrusters burn fuel as a propellant. Plasma thrusters use solar arrays to generate electric and magnetic forces that propel ionized gases. Plasma thrusters are 10 to 100 times more efficient than chemical thrusters.
Tech's new center has two charges:
• research that advances the science
• and application that improves the technology
"The Air Force is letting us work on high-risk, high-payoff technology," King explains. "High risk means that some promising ideas may turn out not to be technically feasible after we examine them more closely. The high payoff is that we might make revolutionary advances to the state of the art. They understand that to make the great breakthroughs, we may have to kiss some frogs and go down some dead ends. They are giving us the academic and creative freedom to do that. Some ideas won't pan out. Hopefully, we'll have stories that start out as napkin sketches and become successes that attract further funding."
All of the universities in the center operate independently but will engage in some collaboration. For example, UM has developed a thruster, and Michigan Tech will develop new laser diagnostics to make measurements inside the thruster—all with an eye to understanding how thrusters work and how they might work better.
The Air Force support is what King calls "long-term funding." He says that getting five years of funding is virtually unheard-of when it comes to university research, which typically attracts support for one to three years. The Air Force's long-term commitment, he says, will facilitate "ambitious and sustained projects."
King anticipates involving Tech faculty from other disciplines. The center also will support three PhD students.
King earned his doctorate in aerospace engineering from the University of Michigan. He started Tech's aerospace program when he joined the faculty in 2000. Initially, he and his students only worked on thrusters. He ramped up the effort to craft whole satellites. He advises the Aerospace Enterprise and has spearheaded the building of a prize-winning nanosatellite for a competition also sponsored by the Air Force.
King says that Tech's aerospace program, including its world-class labs, helped attract the funding for the propulsion initiative. Tech's history and reputation for hands-on projects, particularly its Enterprise Program, also helped. "Our students don't just write papers and computer programs. They know how to turn wrenches and build things. That's been deeply ingrained in the University culture for years," King points out,
One side benefit of Enterprise has been collaboration among diverse disciplines. "That's hard to do at other universities but standard at Tech," says King.
The new aerospace research center puts Tech high on the radar of leaders in the aerospace field. "That kind of visibility can only lead to more projects," King predicts.
Michigan Technological University is a public research university, home to more than 7,000 students from 54 countries. Founded in 1885, the University offers more than 120 undergraduate and graduate degree programs in science and technology, engineering, forestry, business and economics, health professions, humanities, mathematics, and social sciences. Our campus in Michigan's Upper Peninsula overlooks the Keweenaw Waterway and is just a few miles from Lake Superior.