Michigan Tech Kicks Off Public Phase of $200 Million Campaign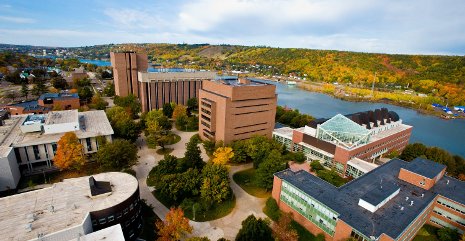 At its regular meeting July 15, Michigan Technological University's Board of Trustees approved a goal of $200 million for a capital campaign now under way at the University. The funds raised will be used primarily but not exclusively for endowed faculty support and student financial aid, said George Butvilas, chair of the Michigan Tech Fund, the nonprofit corporation that receives, invests and disburses gifts to further the University's strategic plan.
"Michigan Tech's goals are to attract outstanding faculty and to provide the best hands-on education to prepare our students to be leaders in our technological world," said President Glenn D. Mroz. "This campaign will help us meet those goals."
During its quiet phase—a time when a select few major donors are approached privately—the campaign already has raised $120 million. The public phase, which began July 1, will last three years. The Board will revisit the goal each year, adjusting it as appropriate.
Michigan Tech entered the campaign with only five endowed faculty positions. That number has already climbed to 16, thanks to donors' contributions. Since the beginning of the campaign, $10.9 million has been raised in new scholarship and fellowship funding.
"The importance of private support for education at state universities is increasing dramatically as state funding continues to shrink," said Dave House, a Michigan Tech alumnus and chair of the national campaign committee. "Private funding is the only way to secure the University's future."
Also commenting on shrinking state support in his opening remarks, President Mroz recalled that the Board agreed at its May meeting to revisit tuition for the upcoming school year once the state's fiscal year 2011 is finalized. "It is still our intention to do that if state funding cuts are not as severe as we anticipated," he said. "There remain many budget uncertainties, and we continue to monitor the situation."
The Board approved purchase of the former Blizzard Snowplow manufacturing plant near the Houghton County Memorial Airport. Michigan Tech will pay $1.55 million for the 55,000 square foot building, which will be used for research and education related to hybrid electric automotive technologies. The Keweenaw Research Center (KRC) will also use part of the building, saving the University the cost of a second new building planned for the KRC.
The Board also approved construction of a 9,000 square foot building adjacent to the Advanced Technology Development Complex on Sharon Avenue in Houghton and authorized the University to issue $1.5 million in bonds. Private funding to cover the cost of the bond financing has already been pledged from several individual donors.
The structure will provide a transitional home for the A. E. Seaman Mineral Museum, which is being moved to free up space in the Electrical Energy Resources Center (EERC). That space is being remodeled to house collaborative research projects in electrical and computer engineering and computer science, areas of recent growth which is anticipated to continue in line with the University's strategic plan.
The $400,000 renovation of the EERC is being funded entirely by private donations, the Board was told.
The long-range plan is still to move the mineral museum to Quincy Hill in Hancock. When it does relocate, that will free up space in the new building on Sharon Avenue for more research and business incubator space.
In other business, the Board
Gave final approval for Tech to offer two new Ph.D. degrees, one in environmental and energy policy and another in geophysics.
Awarded the late Jacob R. Oswald an honorary posthumous Bachelor of Science degree in Forestry.
Named a mechanical engineering research facility on Ethel Avenue in Hancock the Alternative Energy Research Building.
Authorized the University to proceed with construction of the Great Lakes Research Center on the waterfront at Michigan Tech.
Michigan Technological University is a public research university, home to more than 7,000 students from 54 countries. Founded in 1885, the University offers more than 120 undergraduate and graduate degree programs in science and technology, engineering, forestry, business and economics, health professions, humanities, mathematics, and social sciences. Our campus in Michigan's Upper Peninsula overlooks the Keweenaw Waterway and is just a few miles from Lake Superior.