Snow Advisories Got You on the Skids? Sign Up for Michigan Tech's Winter Driving School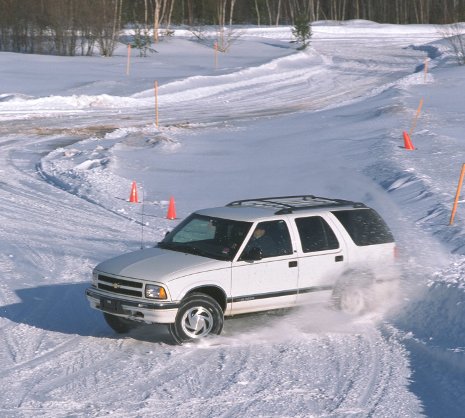 Fender benders, involuntary encounters with snowplows, and that sinking feeling in your stomach when the steering wheel turns and your car goes straight. It doesn't have to be that way.
Michigan Tech's Winter Driving School gives drivers the tools they need to face icy roadways with confidence. Located at the Keweenaw Research Center near the Houghton County Memorial Airport, the school is a day-long crash course in safe winter driving techniques, taught by professional drivers on one of the nation's finest winter driving test courses.
The school got its start 12 years ago. "We were running the winter test facility, and we thought it would be nice to use it to give back to the community and help others drive more safely in the winter," says instructor Mark Osborne.
The course is held on Saturdays and is open to all drivers, including those with learner's permits. "That way, they can learn to do the right thing from the beginning and not develop any bad habits," says Osborne.
The course begins with classroom instruction that includes a video and discussion of safe driving practices, ranging from tires and seatbelts to panic avoidance. Then students head out to the track, where they get hands-on experience in braking, turning, and safely controlling skids.
"We use a wide selection of late-model vehicles, and students spend 60 to 70 percent of the time on the track," Osborne says. "Students tell me they really like the course and that they learned a lot."
The course will be offered on Jan. 23 and then weekly on Saturdays starting Feb. 6. The cost is $150, considerably less than the deductible on most collision insurance policies. Call 906-487-2750 to schedule a day and time.
Michigan Technological University is a public research university, home to more than 7,000 students from 54 countries. Founded in 1885, the University offers more than 120 undergraduate and graduate degree programs in science and technology, engineering, forestry, business and economics, health professions, humanities, mathematics, and social sciences. Our campus in Michigan's Upper Peninsula overlooks the Keweenaw Waterway and is just a few miles from Lake Superior.