Student Research Award Established in Gopi Podila's Memory
By Marcia Goodrich | Published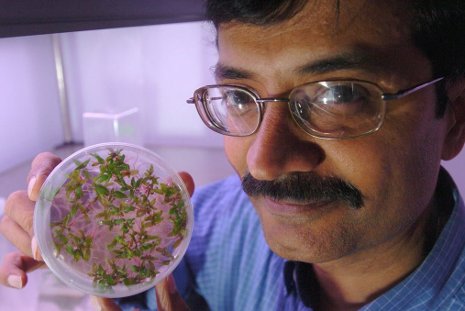 The Department of Biological Sciences at Michigan Technological University has established an award to honor the memory of Gopi Podila.
Podila, a stellar researcher and mentor who served on the department faculty from 1990 to 2002, was killed Feb. 12 in a shooting incident at the University of Alabama at Huntsville, where he chaired the biology department.
In keeping with Podila's efforts to involve students in research, the Gopi K. Podila Research Award will be given annually to a student or students demonstrating outstanding potential for scientific inquiry. Both undergraduate and graduate students studying biological sciences are eligible.
"Gopi was a great scientist and a great friend," said biological sciences Professor John Adler, a former colleague of Podila. "In particular, he gave many students the opportunity to experience research first hand, with all its joys and frustrations. We established this scholarship both to honor him and to continue his legacy."
The award has been established with the cooperation and support of Podila's family. Donations can be made online through the Michigan Tech Fund. Gifts should be designated for the "Gopi K. Podila Research Award." Donations may also be mailed to the Michigan Tech Fund, 1400 Townsend Dr., Houghton, MI 49931-1295.
Michigan Technological University is a public research university, home to more than 7,000 students from 54 countries. Founded in 1885, the University offers more than 120 undergraduate and graduate degree programs in science and technology, engineering, forestry, business and economics, health professions, humanities, mathematics, and social sciences. Our campus in Michigan's Upper Peninsula overlooks the Keweenaw Waterway and is just a few miles from Lake Superior.