Two Michigan Tech Students Granted DOE Graduate Fellowships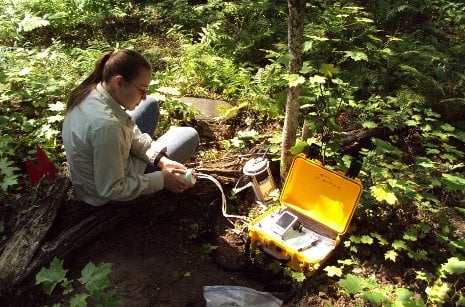 The US Department of Energy Office of Science has awarded graduate fellowships to two Michigan Technological University students.
Colin Gurganus, a PhD student in atmospheric science, and Carley Kratz, who is earning her doctorate in forest science, are among the 150 fellows nationwide selected by the DOE from among 3,300 applicants. They will each receive $50,500 per year for up to three years to support tuition, living expenses, research materials and travel to conferences or to DOE scientific facilities.
"Competition for the DOE fellowships is intense; applicants are drawn from the nation's finest universities," said David Reed, vice president for research. "The fact that two of our students were selected speaks both to the excellence of Michigan Tech's research program and to the students' outstanding qualifications, as well as their dedication and enthusiasm. I congratulate them both."
Gurganus is studying cloud microphysics with his advisor, Physics Professor Raymond Shaw. He aims to better understand the mechanisms that govern the processes inside clouds. Gurganus earned a bachelor's degree in engineering physics from Eastern Michigan University and is also completing an MS in Physics at Michigan Tech, where he was the lead teaching assistant for the department's upper-division teaching labs. In addition to his research, he is also interested in high-energy particle physics and history and enjoys cycling, soccer, volleyball, broomball and travel.
Kratz is researching the impact of climate change on soil microbial communities with her advisors, Associate Professor Andrew Burton and Adjunct Professor Erik Lilleskov of the School of Forest Resources and Environmental Science. In particular, she is interested in how microbial communities respond to changes in carbon and nutrient cycling in the soil. She is involved in studies at Michigan Tech's Ford Center and at the Harvard Forest in Massachusetts. Kratz earned a bachelor's degree at the University of Michigan, where she helped to conduct research on climate change and mycorrhizal fungi. Among her other interests, Kratz enjoys hiking and identifying plants and fungi.
The new DOE fellowship program is designed to strengthen the nation's scientific workforce by supporting young students during the formative years of their research.
"The exceptionally talented students selected as graduate fellows are part of our nation's next generation of scientific and technical leaders," said Energy Secretary Steven Chu. "This investment in the training of scientists and engineers is part of the Obama administration's continued effort to ensure that America has the scientific and engineering workforce we need to secure our energy future and our continued economic competitiveness."
The goal of the fellowship program is to encourage students to pursue graduate degrees in physics, chemistry, biology, mathematics, engineering, and environmental and computer science fields that will prepare students for careers that can make significant contributions in discovery-driven science and science for national needs in energy and the environment."
Funding for the DOE Fellowships comes in part from $12.5 million from the American Recovery and Reinvestment Act, also known as federal stimulus money.
Michigan Technological University is a public research university, home to more than 7,000 students from 54 countries. Founded in 1885, the University offers more than 120 undergraduate and graduate degree programs in science and technology, engineering, forestry, business and economics, health professions, humanities, mathematics, and social sciences. Our campus in Michigan's Upper Peninsula overlooks the Keweenaw Waterway and is just a few miles from Lake Superior.