Living the Suite Life: Michigan Tech Unveils New Residential Apartment Building
By Danny Messinger | Published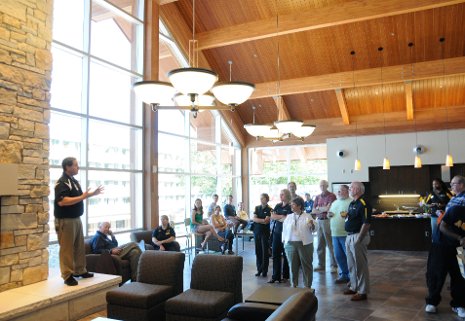 Construction on Michigan Tech's new Residential Apartment Building has been completed. Alumni and the campus community were invited to explore its many features during an open house on Friday, Aug. 6 as part of Michigan Tech's annual Alumni Reunion.
"What makes this building unique is its style—it mixes a downtown city apartment feel with a northwoods lodge atmosphere," said Travis Pierce, director of housing. "It's already 77 percent full for the fall semester. We think that when students return to campus and see it for themselves, there will be a lot of requests to move into the new building."
One of the most exciting features of the new building, Pierce said, is how involved Michigan Tech students were in making important decisions. More than 300 students participated in focus groups during the building's construction and chose the furniture, flooring, kitchen appliances, and even the colors used to paint the walls.
"The only thing students didn't choose in the new rooms were the handles on the kitchen cabinets," Pierce added.
Study lounges on the west end of each floor provide panoramic views of campus and the Keweenaw Waterway. Students looking for a study location with fewer picturesque distractions can take advantage of a large study area on the second floor, which overlooks the first-floor lounge.
The Residential Apartment Building features architecture and building materials inspired by the local area. Based on the style of the Quincy Mine shaft house, the new building's main lounge has a grand sloping roof and walls in the study lounges are covered in corrugated metal. Wisconsin fieldstone surrounds the fireplace in the main lounge, and recovered trees (removed from the building's construction site) have also been given new life, now standing tall in the main lobby.
Residents will live in apartment units with private bedrooms for four students. Each unit has air conditioning and in-floor heating, two bathrooms, a living area, and a kitchen with granite countertops and stainless steel appliances. The apartments come fully furnished with loftable furniture in the bedrooms, and contemporary furniture in the common areas.
Residents will also be able to take advantage of a fitness center and sauna located in the building, and a game room on the ground floor.
"We're really excited to be able to offer Michigan Tech students this new living option," Pierce said. "We think this building is going to provide a fantastic intermediate step between residence hall-life and independent apartment living."
Michigan Technological University is a public research university, home to more than 7,000 students from 54 countries. Founded in 1885, the University offers more than 120 undergraduate and graduate degree programs in science and technology, engineering, forestry, business and economics, health professions, humanities, mathematics, and social sciences. Our campus in Michigan's Upper Peninsula overlooks the Keweenaw Waterway and is just a few miles from Lake Superior.