Great Lakes Research Center: An Investment in the State, the Nation and the World's Freshwater Resources
By Marcia Goodrich | Published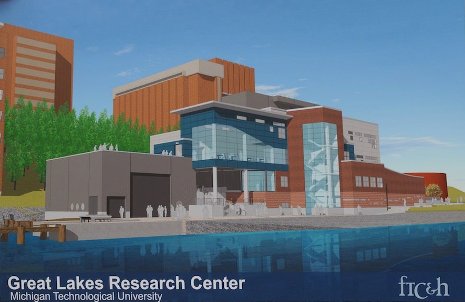 Glenn D. Mroz, the president of Michigan Technological University, was vacationing on his boat in Lake Superior a couple summers ago when he heard his phone ring. He was tempted not to answer the call, he told the crowd today at the Michigan Tech waterfront. But he did, and that's one reason they were all gathered there to mark the groundbreaking of the Great Lakes Research Center.
As it turned out, the person on the other end of the line was State Rep. Mike Lahti. The state didn't have enough money in its capital outlay budget to fund the University's top-priority request, he told Mroz. Was there a less expensive project the University could put forward? "He said, 'I could give you a couple minutes to think about it,'" Mroz recalled; the budget was being divvied up as they spoke, and time was running out.
Mroz pondered for a moment, and, realizing the opportunity he'd been given, suggested the Great Lakes Research Center. With help from State Senator Mike Prusi, the state later agreed to provide 74 percent of the cost of the $25.3 million facility. Michigan Tech's share is 26 percent, approximately $6.6 million. Michigan Tech became one of six state universities with capital outlay projects funded by the state.
The center was an obvious choice for state funding, said Mroz, considering that it will house research and education on one of the world's most precious and increasingly rare resources. "I taught hydrology and watershed management for 25 years," Mroz said. "I used to tell my students, 97 percent of the water in the world is salt." Most of the rest is tied up in glaciers. Of the tiny remainder, about 20 percent is found in the Great Lakes, and half of that total is contained in Lake Superior.
"When Charlie Kerfoot [biological sciences professor W. Charles Kerfoot, who helped spearhead the effort] told us he wanted us to do the Great Lakes Research Center, it was not a hard sell," said Mroz.
Lahti spoke at the ceremony, noting that the new center would have other benefits as well. "This is an investment in our state and in the economic recovery of the nation," he said.
Such an investment relies on Michigan Tech's reputation for quality, which is due to the excellence of its faculty and staff, Mroz added. In particular, he cited the efforts of Kerfoot and Professor Emeritus Robert Baillod for their work to make the center a reality.
The center was designed by FTC&H of Grand Rapids. It will include aquatic laboratories, a hydraulics lab, coastal research instrumentation, boathouse facilities, offices and conference rooms, providing a home at Michigan Tech for interdisciplinary research and education related to the Great Lakes. It will also house a research and educational partnership between Michigan Tech and the US Army Corps of Engineers' Research and Development Center Environmental Laboratory in Vicksburg, Miss. The Vicksburg lab is the Corps of Engineers' water resources research facility.
Construction is expected to be completed in about 18 to 24 months under the direction of general contractor Granger Construction Company, of Lansing.
Michigan Technological University is a public research university, home to more than 7,000 students from 54 countries. Founded in 1885, the University offers more than 120 undergraduate and graduate degree programs in science and technology, engineering, forestry, business and economics, health professions, humanities, mathematics, and social sciences. Our campus in Michigan's Upper Peninsula overlooks the Keweenaw Waterway and is just a few miles from Lake Superior.