Alumnus Teams with Tech to Reclaim Stamp Sand and Grow an Industry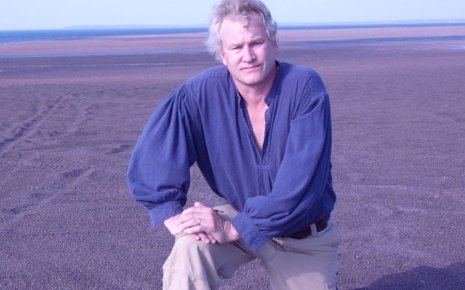 Despite the economic downturn, the roofing industry in America is enjoying long-term, fruitful prospects, and Michigan Technological University will play a role in this nearly $9-billion annual market.
One imminent initiative: a local plant that may employ up to 40 people to process and supply sand to the roofing industry.
A long-term plan: a local plant that would employ 300 people to manufacture roofing shingles.
Both initiatives would use the Keweenaw's stamp sand, a barren and unsightly leftover of copper mining in the region. If aesthetically unattractive, it is a financial beauty—expansive, ready-made for the purpose and cost-effective. These deposits are seen as the potential bedrock of an economic boon.
Roof shingles are 30 percent asphalt and 70 percent rock granules, which are used as both filler in the shingle and granules on its surface. Currently, shingle manufacturers have to mine the rock, crush it and add copper to retard the growth of moss, lichen, fungus and algae—persistent problems for homeowners. Upper Michigan's stamp sand has already been mined and crushed, and it contains copper naturally.
Associate Professor Ralph Hodek of Michigan Tech's civil and environmental engineering department worked for a year to come up with an additive and a process to better adhere the stamp sand to the asphalt. "It has to bind and hang on for 20 to 30 years," he says. "We significantly improved the tenacity."

Hodek says that sand is an expensive part of the mix in shingles. "It's very difficult to find sands now," he explains. "You can't mine dunes and rivers. If you need sand in large quantities, you have to make it. You have to develop a quarry. You have to drill it and shoot it and crush it. Here, we can use material that we already have. Recycling stamp sand is a very, very good thing. We're hoping not only to make a major financial impact on the area, but also to remove this material that's unsightly. The more we remove, the happier everyone is going to be."

Four out of five homes in America are roofed with asphalt shingles. The market comprises both new construction and replacement roofs. "The base is substantial—even with zero construction growth, which is highly unlikely," says James Baker, director of Michigan Tech's Office of Technology and Economic Development. "Even the bleakest of forecasts for continued struggle in the housing industry do not eliminate the opportunity for this technology to move forward."

It is Baker's job to transfer University research to the marketplace, and he is encouraged by the commercial possibilities of using the stamp sand for roofing. "We deal with a lot of technologies that are at an early stage and challenging to move beyond the laboratory, but this is a very mature initiative. While commercial success is never a sure thing, this is farther along and therefore more likely to survive than most of the things we work on." Baker just facilitated the signing of a licensing agreement—which he calls "a notable event"—that provides a local company with exclusive rights to commercialize patents filed by the University relating to the technology.
The president of that company, GreenSand Corp., is Michigan Tech alumnus Domenic Popko, formerly of Negaunee, now of Traverse Bay. He is the entrepreneur behind the utilization of Keweenaw stamp sand and a joint inventor of the underlying technology.
"What will happen will be quite amazing," Popko claims. He plans to build the processing plant near Gay, 23 miles northeast of Houghton, where the stamp sand stretches along Lake Superior for five miles to the southwest.

Taking advantage of the antimicrobial nature of copper in the stamp sand to make a better roofing shingle is an idea that Popko has been working on, in collaboration with Michigan Tech, for some time. "An awful lot of study has been done," he says. Besides Hodek and Baker, other Tech scientists who have contributed to the project are Jim Hwang and Bowen Li, director and research scientist in Tech's Institute of Materials Processing. Popko calls all four colleagues "people of foresight."

There are about 500 million tons of stamp sand in the Keweenaw; the biggest deposit, up to 30 feet deep along the shoreline between Gay and Traverse Bay, with even more material on the lake bottom. The sand is primarily basalt with .03 percent copper. That trace amount is all that's needed to give the material its antimicrobial characteristic.

The Gay sands have been extensively sampled and studied by both the US Environmental Protection Agency (EPA) and the Michigan Department of Environmental Quality. Both studies concluded that the sand is safe for full-body exposure. The Keweenaw County Road Commission owns 68 acres, 30 million tons or more, along 6,000 feet of shoreline, and GreenSand Corp. has a license from the county to use these sands for 19 years.

"We're pleased with the way things are moving along," Popko adds. "It's exciting. It's time to make it go." He hopes to begin construction of the processing plant this year.
His plans are ambitious. Trucks and front-end loaders will move the sand from the lakefront to the processing plant, where it will be dried and sorted by size (the industry wants a specific blend), and colored. Then it will be trucked to a dock in the Houghton-Hancock area, where it will be transferred to ships bound for Detroit, Chicago and other commercial centers.
Popko says that the project's carbon footprint will be positive, since the quarrying and crushing have already been accomplished; less stamp sand will spread in the lake; the fish industry will benefit; the land will look better and be worth more; and, as important, jobs will be created. "There are no negatives," he says. "And the UP needs help financially."

Popko has two degrees in geological engineering from Michigan Tech and worked at the University's Institute for Materials Processing (IMP) for five years. While there, he focused on ways to use waste—an inquiry that became the basis for stamp sand project. While at IMP, he founded Lesktech Ltd., which performed the initial stamp sand research.

For this initiative, Popko has received grants from the EPA and the State of Michigan, and Hodek received a grant from the Michigan Initiative for Innovation and Entrepreneurship. This funded research and marketing and feasibility studies.

They found that not only is stamp sand good for shingles, it could also be used to lessen the deterioration of bituminous asphalt concrete pavements.
Meanwhile, the building of a shingle manufacturing plant remains a prospect. "Although much work remains, that possibility is even more exciting," Popko says.

For years, people have been complaining about the trashy-looking stamp sands. One man's trash is another man's treasure? "That's what they say," Popko concludes. "We'll see."
Michigan Technological University is a public research university, home to more than 7,000 students from 54 countries. Founded in 1885, the University offers more than 120 undergraduate and graduate degree programs in science and technology, engineering, forestry, business and economics, health professions, humanities, mathematics, and social sciences. Our campus in Michigan's Upper Peninsula overlooks the Keweenaw Waterway and is just a few miles from Lake Superior.