Orphan Bikes Prepared for Adoption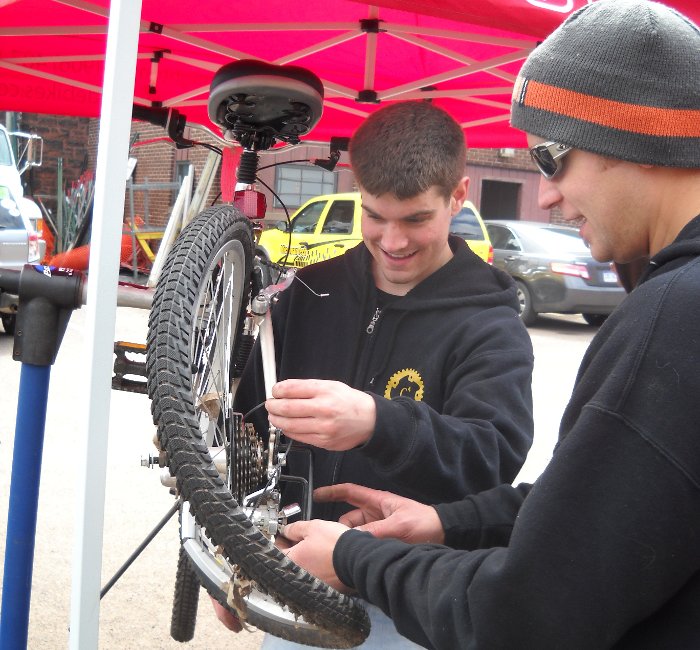 Each school year, more than two dozen bicycles—and sometimes as many as 50—are abandoned on the Michigan Tech campus. Now student cycling enthusiasts, Tech's Department of Public Safety and Police Services and the owners of a local bike shop have joined forces to restore some of the orphan bikes and make them available through a local charity.
Last weekend, DPSPS Chief Dan Bennett worked with four students and the owners of The Bike Shop—who happen to be Michigan Tech alumni—to put nine of the 49 abandoned bikes in safe working order
Participating were Kyle Bordeau, president of the Copper Country Cycling Club (C-4) and a mechanical engineering-engineering mechanics undergraduate; Andy Kienitz, treasurer of C-4 and an electrical and computer engineereing undergraduate; Doug Banyai, a member of C-4 and a physics graduate student; Kate Waring, an environmental engineering undergraduate and part-time employee of The Bike Shop; and Steve Vizanko and Caleb Wendel, co-owners of The Bike Shop, both of whom graduated with business degrees from Tech. They were assisted by Nathan Bennett, age 6, Chief Bennett's son.
"This type of project, with Tech alumni and Tech students working together to benefit the community, exemplifies the level of community service that makes Tech such a special place," said Chief Bennett.
He hopes to make the unclaimed bike restoration project an annual event. Meanwhile, he encouraged students to register their bikes with DPSPS, so they can be returned to their rightful owner if they are found.
Michigan Technological University is a public research university, home to more than 7,000 students from 54 countries. Founded in 1885, the University offers more than 120 undergraduate and graduate degree programs in science and technology, engineering, forestry, business and economics, health professions, humanities, mathematics, and social sciences. Our campus in Michigan's Upper Peninsula overlooks the Keweenaw Waterway and is just a few miles from Lake Superior.