Gala Latina! Music, Dance (and Even Free Lessons)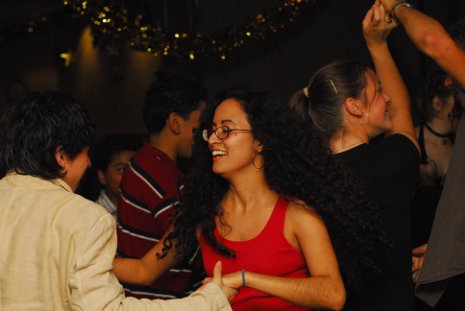 Michigan Tech's fifth annual Gala Latina will be held Saturday, Oct. 3, from 9 p.m. to 1 a.m, in the Memorial Union Ballroom.
Whether you love to dance or just love to listen to great music, you are invited to come and enjoy Sergio Poventud and his Orquestra, "Veneno," a 15-member Latin band from Milwaukee. Veneno will perform music ranging from salsa and merengue to bolero and cumbia.
The evening includes song and dance contests, with prizes for the winner. Tickets are $5 per person, $8 per couple.
Want to polish up your salsa before you hit the dance floor? Michigan Tech's Social Dance Club, in collaboration with the Society of Hispanic Professional Engineers, will be teaching a variety of Latin dances; everyone is invited. And if you know some of the dances and want to help teach, you're more than welcome.
Classes (which are all free) are set for
• Wednesday, Sept. 30, 7-9 p.m., Memorial Union Commons, with grad student Julio Rivera teaching
• Friday, Oct. 2, 10 p.m.-midnight, Student Development Complex Dance Room
• Saturday, 7:30-8:30 p.m., Memorial Union Commons
Poventud and five of his musicians will perform a free preview of the Gala Latina dance music from 11:30 a.m. to 1:30 p.m., Friday, Oct. 2, in the Memorial Union Commons. The group will also put on a music workshop as part of an elementary school outreach program at 9 a.m., Friday, Oct. 2, at Calumet Elementary School.
For more information on Gala Latina, call Madeline Mercado Voelker at 906-487-2920.
Gala Latina is presented by the Society of Hispanic Professional Engineers and cosponsored by Multicultural Affairs.
Michigan Technological University is a public research university, home to more than 7,000 students from 54 countries. Founded in 1885, the University offers more than 120 undergraduate and graduate degree programs in science and technology, engineering, forestry, business and economics, health professions, humanities, mathematics, and social sciences. Our campus in Michigan's Upper Peninsula overlooks the Keweenaw Waterway and is just a few miles from Lake Superior.