Michigan Tech Research Institute Receives NIH Grant to Study Wildfires, Health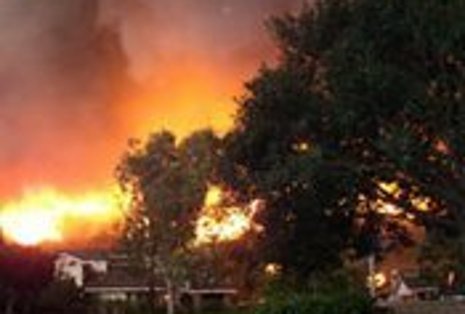 Where there's smoke, there may be health risks. And where there's climate change, there may be more—and more intense—wildfires. What does that mean for the health of people downwind from the smoke?
A team of Michigan Technological University researchers has received a $452,086 grant from the National Institutes of Health's National Institute of Environmental Health Sciences for the first year of a research study of the impact of climate change on wildfires and the resulting impact on human health of smoke from the wildfires.
The grant comes from the American Recovery and Reinvestment Act (ARRA), popularly known as federal stimulus funds. This brings to $6.5 million the amount of federal stimulus money that has come to Michigan Tech so far.
"We know that climate change may cause an increase in the frequency and intensity of wildfires," says Nancy French, a senior research scientist at the Michigan Tech Research Institute, based in Ann Arbor, Mich., and an adjunct assistant professor in Tech's School of Forest Resources and Environmental Science. "What we don't know is whether future fires will produce more particulate matter, and what effects this change might have on people's health."
French is the principal investigator on the new study. Her expertise is in fire emissions, which she describes as "what is in that smoke."
Co-investigators are Tyler Erickson, a research scientist at MTRI and adjunct assistant professor of civil and environmental engineering at Michigan Tech; Shiliang Wu, an assistant professor of geological and mining engineering and sciences at Tech; Michele Ginsberg of San Diego County Public Health Services; and Tatiana Loboda of the University of Maryland's Department of Geography, who specializes in analyzing future fire risk.
"The NIH project will bring together many components, such as wildfire emissions, atmospheric transport modeling, spatial-temporal visualization and geostatistical estimation," says Erickson, whose expertise is in spatial statistics. "We are well-equipped to do this kind of research because of the diverse, but complementary, modeling expertise of MTRI and Michigan Tech researchers."
Erickson will work with the Wildland Fire Emissions Information System, which is being developed under a project led by French and funded by a National Aeronautics and Space Administration (NASA) grant. He also will be designing a geospatial data system that allows for visualization of particulate concentrations over space and time, a technology similar to one that won him an international award from Google earlier this year.
Wu's expertise is in atmospheric chemistry, air quality and global climate change. His work was recognized by the Intergovernmental Panel on Climate Change (IPCC) for contributing to the work for which the IPCC received the Nobel Peace Prize in 2007. He will use well-established atmospheric models to study the effects of air pollution meteorology on pollutants associated with wildfires. "In other words, we want to find out where that smoke is going," French explains.
The scientists will study data from 2003 and 2007 wildfires near San Diego, using data from air quality sensors and information on the incidence of respiratory and cardiac disorders before, during and after the fires, provided by the San Diego County Health Department.
French hopes the study will help quantify the amount and type of emissions from wildfires, use smoke dispersion models to measure the exposure of nearby urban populations to wildfire emissions, assess the impact of those emissions on respiratory distress and illness, and compare the effects that different climate change scenarios could have on the frequency and intensity of wildfires and thus on human health.
"That's why I'm so excited," she said when she heard that her project had received funding. "This is all so interesting, and it's useful too."
Michigan Technological University is a public research university, home to more than 7,000 students from 54 countries. Founded in 1885, the University offers more than 120 undergraduate and graduate degree programs in science and technology, engineering, forestry, business and economics, health professions, humanities, mathematics, and social sciences. Our campus in Michigan's Upper Peninsula overlooks the Keweenaw Waterway and is just a few miles from Lake Superior.