Homecoming Fun and Games at Prince's Point
By John Gagnon | Published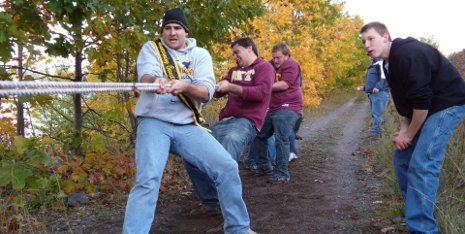 About 150 students gathered Thursday night at Prince's Point, a cozy fringe of beach with a backdrop of moving water and turning leaves. Natalie Noha, a fourth-year student from Menominee, summed up the goings-on: "Things fun and different," she said.

She was talking about homecoming, of course, which sported several new activities this year, four of which were at Prince's Point: a tug of war, sand castles, a relay race, and a bonfire. The sand castles were autumn's snow statues.

The festivities began at five o'clock in the soft glow of the evening sun, which proved fleeting. Soon the sun died and the chill air had people hunching and putting their hands inside their long sleeves. The students of Delta Sigma Phi built a small, half-hearted fire. "For warmth," one said. "We're hoboes."

The tug of war was loud and boisterous. The team from Theta Tau was strong, and they learned the ropes quickly—kicking footholds in the dirt before a match.

The sand castle work was more subdued and intent. One tall young man came on the scene and said, "I came to build a sand castle. I've got knives and spoons. Is that legal?" No, he was told. The rule: use anything natural on the beach. Each team had a plot and a bucket and the charge: display Husky pride and be in good taste. Thirty-six groups participated. There were castles, moats, drawbridges, and tunnels, palisades of twigs and rock and sand, as well as forests of ferns and grasses and weeds.
"We have no game plan," one group reported. "We're just doing whatever. It's a work in progress. It's called the 'please-God-stay-up.'" As we spoke it collapsed under the weight of a new bucket of wet sand.
Marc Starnes, a fifth-year student from Kingsford, loves Tech, loves the location, and loves these doings. Homecoming is his favorite campus event, especially the new events this year. High on his list: the community service component. He worked Wednesday at the Little Huskies Child Care Center. The next evening's cold didn't dampen his enthusiasm. "I keep moving, keep busy, and keep warm thoughts," he said.
Rachel Wussow, of Student Leadership & Involvement, had her hands full Thursday night, directing all the helpers, answering questions, and keeping events moving along so they were done by dusk. Wussow loves working with students. She said that these guidelines underscored the overall homecoming effort: "No risk involved and keep it fair." She has the attitude of a servant. "They pay my salary," she said of the students.

Just before dark there was a three-part relay race:

1. Transfer water from a full bucket to an empty bucket, 15 feet apart, with sponges.
2. Transfer a tennis ball, tucked under the chin, from one person to the next, no hands. It was a cozy affair.
3. And pull a small sled on skis, for a hundred feet, with a passenger, Blizzard T. Husky, sitting on a chair with no legs. He weighs 200 pounds.

Blizzard also played a role in a sand castle fashioned by Chelsea Garceau, a third-year student from Negaunee, and her partner. They presaged the outcome of the football game Saturday against the Findlay Oilers. Their castle depicted a knocked-down oil tank and a clue to how it was done: Blizzard's telltale paw prints in the sand.
Michigan Technological University is a public research university, home to more than 7,000 students from 54 countries. Founded in 1885, the University offers more than 120 undergraduate and graduate degree programs in science and technology, engineering, forestry, business and economics, health professions, humanities, mathematics, and social sciences. Our campus in Michigan's Upper Peninsula overlooks the Keweenaw Waterway and is just a few miles from Lake Superior.