State Authorizes Michigan Tech to Seek Construction Bids for Great Lakes Research Center
By Jennifer Donovan | Published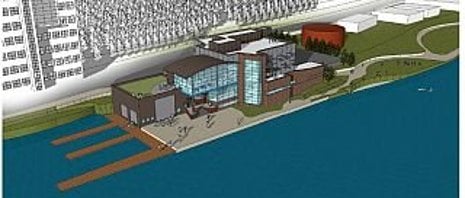 The Michigan Legislature's Joint Capital Outlay Committee meeting in Lansing today authorized Michigan Technological University to seek construction bids for its planned Great Lakes Research Center (GLRC).
The $25,337,000 facility will be built on the waterfront adjacent to the Michigan Tech campus in Houghton, Mich. The state will pay 74 percent of the cost. The University's share is 26 percent or $6,587,000.
"As Michigan moves toward a blue-water economy, this Great Lakes Research Center will play a vital role in helping the state understand and use its freshwater resources," said Michigan Tech President Glenn D. Mroz. "It is a strategic investment in the future, for the state and for the University."
The GLRC will include aquatic laboratories, a hydraulics lab, coastal research instrumentation, boathouse facilities, offices and conference rooms, providing a home at Michigan Tech for interdisciplinary research and education related to the Great Lakes . It will also house a research and educational partnership between Michigan Tech and the US Army Corps of Engineers' Research and Development Center Environmental Laboratory in Vicksburg, Miss. The Vicksburg lab is the Corps of Engineers' water resources research facility.
At the GLRC, Michigan Tech and the Corps of Engineers will conduct cross-disciplinary research and education focusing on protection and restoration of the Great Lakes. Vicksburg scientists will work collaboratively with Michigan Tech researchers and students in both locations.
"We are appreciative of the strong, continuing support of Sen. Michael Prusi and Rep. Michael Lahti," said Dale Tahtinen, vice president for governmental relations at Michigan Tech. "They played a significant role in making this happen."
The University's Board of Trustees will now be asked to authorize seeking construction bids for the 49,466 square foot center, based on a schematic design already approved by the state. Groundbreaking could occur in spring 2010.
Michigan Technological University is a public research university, home to more than 7,000 students from 60 countries. Founded in 1885, the University offers more than 120 undergraduate and graduate degree programs in science and technology, engineering, forestry, business and economics, health professions, humanities, mathematics, and social sciences. Our campus in Michigan's Upper Peninsula overlooks the Keweenaw Waterway and is just a few miles from Lake Superior.