Seven Added to Michigan Tech Sports Hall of Fame
By Dennis Walikainen | Published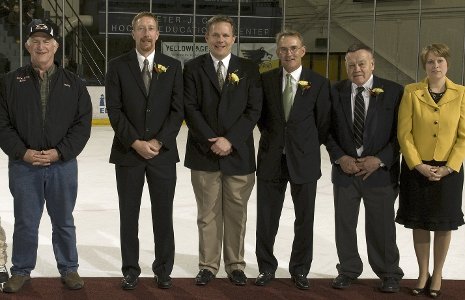 Michigan Tech inducted seven new members into its Sports Hall of Fame during a recent ceremony on campus.
Don Boldt (football 1954-57), Herb Boxer (hockey player 1967-70 and coach 1985-90), Dave Fischer (sports information director, 1987-2004), Chris Klaes (cross country and track, 1987-90) and Ron Ray (football and wrestling 1966-70) all spoke and accepted their plaques during the event. D.J. Evans (women's basketball 1979-84) and John Opie (major donor) both were inducted but were unable to attend.

The theme of the evening was people, as all five of the inductees in attendance thanked the many individuals who surrounded them at Michigan Tech for their accomplishments.
"It's all about the people," said Boldt. "You don't remember the wins and losses, but the people and times you had."
Boxer echoed the sentiments. "This honor is for the people of Michigan Tech and the Copper Country. They are the reason for my success and the reason I'm here."
The annual hall of fame induction took place between Tech's home football game vs. Northwood and its home hockey contest vs. North Dakota. The event drew nearly 150 people in attendance including more than 20 members already in the Sports Hall of Fame. The current list of inductees into the Michigan Tech Sports Hall of Fame now stands at 181.
"It's great to be back home and looking out on this room of Michigan Tech people," said Fischer. "Working at Tech and accomplishing what we did was a team effort, and I'm very proud to have been a part of it."
Don Boldt ('58) was a four-year starter for the football program, playing on offensive and defensive lines and earning the Alan Bovard Award as the team's MVP and the Fred Baird Memorial Award as the team's top defensive player in 1957. Boldt received a mechanical engineering degree and was a graduate assistant coach for two seasons. The Green Bay resident has remained involved with Tech through the Football Advisory Council and as a member of the President's Society.
Herb Boxer played hockey from 1967 to 1970 and coached from 1985 to 1990. The Hancock, Mich., native recorded 73 points in 97 games, helping the Huskies to one WCHA title and two NCAA Tournament appearances. In 1968, he became the first American-born player taken in the NHL draft. In 1987-88, he was named WCHA Coach of the Year. Boxer currently works for Cook Systems International in Memphis, Tenn.
D.J. Evans was one of the most prolific scorers in women's basketball history. Her career scoring average of 13.3 is third-best all-time. Evans earned Great Lakes Intercollegiate Athletic Conference (GLIAC) All-Defensive Team accolades as a sophomore and was the team's MVP as a senior. She was the first player to accumulate 1,000 career points and 500 career rebounds with 1,092 and 540. Evans' season scoring average of 18.6 in 1983-84 stands as the second-highest in school history. A native of Honor, Mich., Evans now resides in Glens Falls, N.Y.
Dave Fischer was Tech's sports information director for 17 years. He was also assistant athletic director for seven years and information director for the GLIAC for five years. He was on numerous committees with the College Sports Information Directors of America and had more than 40 publications cited for excellence by the College Sports Information Directors of America (CoSIDA). Fischer, who now serves as the director of communications for USA Hockey in Colorado, continues to be a tireless promoter of Michigan Tech and a regular contributor to the Huskies Club.
Chris Klaes, who participated in track and cross country, is arguably the most decorated runner in Tech history. The school record holder in the 3,000-meter steeplechase earned NCAA All-America honors in that event with a second-place finish at the national championship in 1990. Earlier that year, Klaes was named the GLIAC outdoor track MVP after he won the 3,000-meter steeplechase and the 5,000-meter run. He was also a GLIAC indoor champion in the 3,000 meters in 1990. In cross country, Klaes's best finish was a runner-up showing at the GLIAC Championship in 1989. Now a resident of Lexington, S.C., Klaes teaches high school math and science.
John Opie ('61) had a long and successful career with General Electric Company and has always been a passionate fan and financial supporter of Michigan Tech athletics. In 2004, he gave $250,000 to the Hockey Enrichment Campaign, which helped raised $2.6 million for the hockey program. In 2008, he committed a $1-million gift for the Hockey Arena Renovation Project. Opie is a lifetime member of the Huskies Club. In addition to supporting athletics, Ruanne and John Opie have donated $6.7 million to Michigan Tech, which includes gifts to the Van Pelt and Opie Library, the Ruanne and John Opie Materials Science and Engineering Endowment, and the Center for Integrated Learning and Information Technology. Opie, who retired in 2000 from GE, resides in Weston, Conn.
Ron Ray was a four-year letterman in both football and wrestling. On the gridiron, Ray served as team captain of a Northern Intercollegiate Conference (NIC) championship team in 1969, earning All-NIC First Team honors as a guard. Ray was a successful wrestler as well, finishing fourth at the NIC meet in 1969 at 190 pounds. The Minneapolis native earned Tech's Terry Wilson Award as the top freshman student-athlete in 1967 and later was given the Raymond L. Smith Award as the school's top senior student-athlete in 1970. Ray currently serves as vice president for operations for Arctic Cat in Thief River Falls, Minn.
Michigan Technological University is a public research university, home to more than 7,000 students from 54 countries. Founded in 1885, the University offers more than 120 undergraduate and graduate degree programs in science and technology, engineering, forestry, business and economics, health professions, humanities, mathematics, and social sciences. Our campus in Michigan's Upper Peninsula overlooks the Keweenaw Waterway and is just a few miles from Lake Superior.