The Wonder Women of Michigan Tech: What's Right About NCAA Basketball
By Marcia Goodrich | Published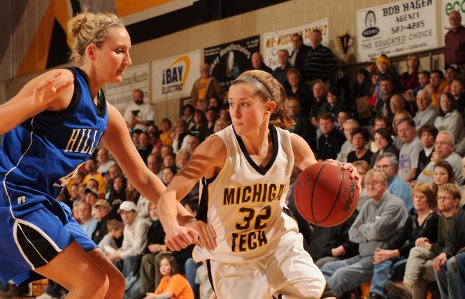 Work harder than you can imagine, play harder than you ever dreamed. Draw a bead on an audacious goal. And then, come March 24, you just might find yourself competing in the NCAA Division II Elite Eight.
"This team is a very special one," said John Barnes, coach of Michigan Technological University's women's basketball team. "They are very focused, not only on the court, but also in the classroom.
"That goes hand in hand with the institution of Michigan Tech," he added. "You have to be a special person, and you have to work hard, but if you do, you will succeed."
The Huskies trounced the University of Indianapolis Monday, March 16, to win the Midwest Regional Championship, capping a spectacular 27-6 season and earning the right to compete in San Antonio, Texas. While the limelight may be shining on this year's team, its foundation was laid 20 years ago. Then, former coach Kevin Borseth, now at the University of Michigan, began luring talented players to the University with the promise of a great education as well as the chance to play great basketball.
"Since 1987-88, we haven't had a losing season," said Wes Frahm, director of athletic communications and marketing. "We've made 14 trips to the NCAA Midwest Regional Tournament and won 75 percent of our games, but this is only the second time we've broken through the regional rounds."
College sport is rife with sorry tales of athletes who make the grade on the field and fail in the classroom. Tech's women's basketball team, on the other hand, boasts the second-highest grade point average in the nation at 3.64, and Barnes is grateful for that level of intellect at every practice. "They are very smart—they take instruction well. You don't have to tell them something twice," he said. "And their GPA shows their commitment to school, to their education first and foremost."
Success does have a price. "It's hard for them to have a normal college life," said Barnes. Smarting from a 2008 defeat in the first round of the NCAA Regional, the team vowed not to let it happen the next year. "They made a big commitment," Barnes said, "and I am so proud of them. It has turned them into great students, great players, and great people."
Michigan Tech President Glenn D. Mroz remembers meeting with the team over dinner, before the season began. "They said they were headed to a national championship, and they never doubted it for a minute."
Mroz, who rarely misses a game, cited their mutual dedication as a key factor in their success. "Any single person on the team can ignite the rest of them on a moment's notice," he said. "It is a selfless group. That's a life skill, a life lesson, and I bet all these women will be CEOs of something someday."
"Academics are very important to us, and the coach places a big emphasis on how well we do in the classroom," said team captain Sarah Stream, who owns a 4.0 grade point average in a double major. "It's tough, with traveling, but you really learn to manage your time and set priorities. Out team does an amazing job of excelling in class and on the court."
She credits a work ethic that just won't quit. "It's in all aspects of ourselves. I think we try as hard as we can at whatever we do, which sets us apart from other teams."
As for the University, "I love going to Michigan Tech," Stream said. "Everyone accepts you for who you are. You can be yourself. It's challenging, but when you leave here, you'll have a great education. That's why we picked Michigan Tech."
She is happy to be sharing some of the team's excitement with their supporters. "This whole experience has been a great opportunity, and we're thankful that we have a chance to be a part of it all. At Michigan Tech, we have some of the best fans around. We want to thank everyone for that.
"We want to win it for them. We want to keep it going."
They have already won in the eyes of many. "I'm just so proud; they are the epitome of scholar-athletes," said Mroz. "Many teams have good three-pointers. At Michigan Tech, we have great four-pointers."
For more information, visit the Michigan Tech Athletics website, www.athletics.mtu.edu/ .
Michigan Technological University is a public research university, home to more than 7,000 students from 54 countries. Founded in 1885, the University offers more than 120 undergraduate and graduate degree programs in science and technology, engineering, forestry, business and economics, health professions, humanities, mathematics, and social sciences. Our campus in Michigan's Upper Peninsula overlooks the Keweenaw Waterway and is just a few miles from Lake Superior.