Pulling Their Way for Others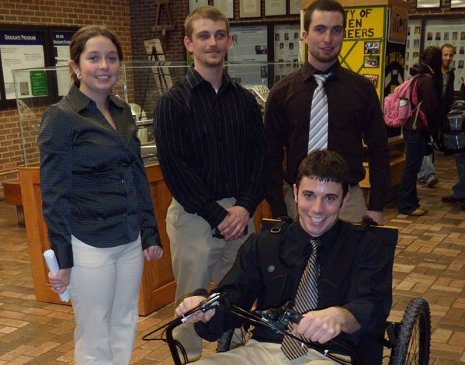 Imagine a wheelchair that is "rowed" around scenic trails and woods, allowing the disabled to enjoy the outdoors. A student team at Michigan Technological University has made it a reality.
The Human-Powered Off-Road Wheelchair prototype was created through the mechanical engineering senior capstone course. The 8-speed vehicle is easy to maneuver by pulling back on the handlebars and can reach speeds up to 4 mph, roughly equal to a slow jog, although the speeds are "user dependent."
The team of seniors test-drove it around the Smith Mechanical Engineering-Engineering Mechanics Building at Michigan Tech recently, after they did their final presentation.
"The team had to overcome some challenges," said sponsor John Beard, associate professor of mechanical engineering-engineering (ME-EM) mechanics. "They had to keep it fairly lightweight, since it was going to be self-propelled. And it had to stop before rolling backwards. They accomplished both. It can even go up a 28-degree slope."
The overarching idea of this and other projects Beard and his students have undertaken is to create vehicles and systems that the disabled can use without paving the Tech Trails, keeping the outdoor nature trails as natural as possible.
Beard said his seniors proved this type of vehicle was possible and that people could propel themselves and turn with short strokes. The wheelchair was also a great learning experience for the team.
"I learned about design problems, mountain bikes and fabrication," said Heather Robertson. She graduated on Dec. 12, 2009, with her mechanical engineering degree, like all of the team members. She also received a biomedical engineering degree.
Robertson learned that they had to keep the wheelchair low, so the center of gravity was in front of the rear axle, and the gearing had to accommodate going up hills. The wheelchair features dual bicycle-type gears, one on each side, and it can go downhill too, she said..
The wheelchair will be stored and used at the Tech Trails, "as soon as we get fenders on it," said Josh Dorr, another student on the engineering team. He learned project planning over the life of the design course.
Each team member contributed 140 hours to the project. "I spent a lot of time in the lab!" Dorr said. "And I learned different machining skills like the lathe."
Another student, Brad Szkrybalo, learned the difference between "what is designable and what can be manufactured. It underwent a real evolution."
It all started with brainstorming. "We wrote down every idea we could think of," said Dorr.
"We began with a pushing motion, but pulling is more repeatable," Robertson added.
They also worked with occupational therapists on the seat design, harness and techniques for transferring disabled people in and out of the chair. The handlebars swing out of the way to allow easier access and exiting, for example, and it also has adjustable footrests.
Much of the wheelchair was machined, and the metal is coated to protect against the elements. Other features included one-way bearings for zero rollback, a total weight of 55 pounds, a consistent color scheme for aesthetics, a suspension seat to minimize pressure points, the ability to accommodate a range of heights—and it was all built under the $3,000 budget.
And the team sees more possibilities.
"Definitely," said Dorr. "It could be produced more cheaply, and it would work for getting people out hiking, hunting and fishing."
"And downhill racing!" added Szkrybalo.
The team also included Michael Lecureux and Karen Jarvey. Most of the team members have had interviews but no job offers yet.
This wheelchair is one of three projects under Beard's sponsorship. The other two are a hybrid tracked wheelchair that would work off-road quietly and a platform that a wheelchair could be wheeled onto and then driven. There is also a sonic system for the visually impaired, to enable them to enjoy the recreational forest and trails on campus.
According to advisor Greg Odegard, another associate professor in the ME-EM department, "the team members worked very hard on this project, and the resulting design exceeded our initial expectations. The final design is robust and performs well. Also, it is very fun to operate."
"I anticipate that it will be heavily used on the trails," he said. "The wheelchair is easy to control and has a turn radius that is equal to any standard wheelchair."
The team received support from the Kellogg Foundation, the Access to Recreation Initiative, and the Michigan Recreation and Parks Association.
Michigan Technological University is a public research university, home to more than 7,000 students from 54 countries. Founded in 1885, the University offers more than 120 undergraduate and graduate degree programs in science and technology, engineering, forestry, business and economics, health professions, humanities, mathematics, and social sciences. Our campus in Michigan's Upper Peninsula overlooks the Keweenaw Waterway and is just a few miles from Lake Superior.