Tech Hosts "Hometown Heroes" Training for Emergency Responders
By Jennifer Donovan | Published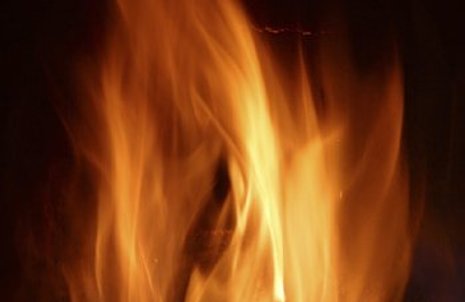 That wasn't an accidental propane fire in the Forestry Building parking lot at Michigan Technological University; it was a training exercise to help firefighters learn how to handle propane fires safely. Michigan Tech is hosting the "Hometown Heroes" training this week for emergency responders from Baraga, Houghton, Keweenaw and Ontonagon Counties.
More than 100 firefighters, paramedics, hospital and emergency management personnel from the western UP counties gathered at Tech for training in hazardous materials and fire dynamics. It is the first of planned annual training for emergency responders.
"We want to develop a strong collaborative relationship with the agencies and people who protect our campus," explained Jon Stone, emergency response specialist at Tech. Emergency responders from metropolitan areas receive regular training, but there are fewer training opportunities for volunteer responders and others in rural areas like this, he explained.
A featured trainer is C.B. "Buzz" Melton, a former battalion chief of the Baltimore Fire Department. He will talk about handling situations involving hazardous materials and lead hands-on practice of chemical decontaminations.
Michigan Technological University is a public research university, home to more than 7,000 students from 54 countries. Founded in 1885, the University offers more than 120 undergraduate and graduate degree programs in science and technology, engineering, forestry, business and economics, health professions, humanities, mathematics, and social sciences. Our campus in Michigan's Upper Peninsula overlooks the Keweenaw Waterway and is just a few miles from Lake Superior.