Michigan Tech's Undergraduate Engineering Ranking Rises
By Jennifer Donovan | Published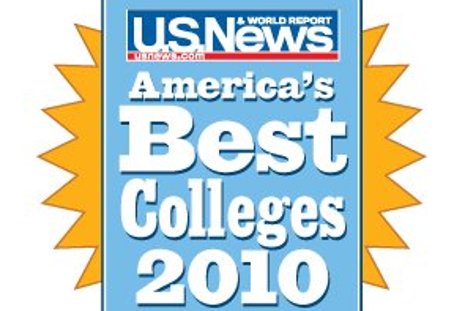 Michigan Technological University's undergraduate engineering programs rose in the latest US News & World Report rankings, placing 64th in the nation among engineering schools whose highest degree is a doctorate. Last year, undergraduate engineering at Michigan Tech ranked 70th.
Environmental Engineering and Materials Science and Engineering both made the top-20 lists of specialty engineering programs in the nation. Environmental Engineering ranked 15th and Materials Science and Engineering ranked17th.
The rankings were released online today. They will be on newsstands on Monday, Aug. 24, in US News & World Report's annual publication titled America's Best Colleges.
Overall, Michigan Tech is in the top tier of national universities, ranking 121st along with Arizona State University, the University at Buffalo-SUNY, the University of San Francisco and Catholic University of America. National universities are defined as institutions that offer a full range of undergraduate majors, master's and doctoral degrees and emphasize groundbreaking faculty research.
Michigan Tech is one of three public universities in Michigan to make the top tier of the magazine's undergraduate education rankings. The other two are the University of Michigan and Michigan State University.
"It is gratifying to know that US News & World Report recognizes Michigan Tech's growing excellence in undergraduate engineering education," said President Glenn D. Mroz. "And maintaining our position in the top tier of national universities reflects significant progress toward our goal of being a world-class technological research university."
Each year, US News ranks public and private colleges and universities and their undergraduate programs based on quantitative data and peer review. Data include 15 "indicators " such as freshman retention rate, graduation rate, percentage of classes with fewer than 20 or more than 50 students, the SAT or ACT scores of first-year students, the percentage of first-year students in the top 10 percent of their high school class, acceptance rate and average alumni giving rate. The data is submitted to US News by the colleges and universities.
This year, Michigan Tech's graduation rate rose to 65 percent, compared to 64 percent last year. The University's acceptance rate dropped to 75 percent from 84 percent last year, indicating a more selective admissions process.
Peer assessment of academic excellence by presidents, provosts and deans accounts for 25 percent of the rankings. Nearly 4,300 questionnaires were sent to top academics at schools across the nation, and 48 percent of them responded, according to US News & World Report.
Michigan Technological University is a leading public research university, conducting research, developing new technologies and preparing students to create the future for a prosperous and sustainable world. Michigan Tech offers more than 130 undergraduate and graduate degree programs in engineering, forestry and environmental sciences, computing, technology, business and economics, natural and physical sciences, arts, humanities and social sciences.
Michigan Technological University is a public research university, home to more than 7,000 students from 54 countries. Founded in 1885, the University offers more than 120 undergraduate and graduate degree programs in science and technology, engineering, forestry, business and economics, health professions, humanities, mathematics, and social sciences. Our campus in Michigan's Upper Peninsula overlooks the Keweenaw Waterway and is just a few miles from Lake Superior.