Michigan Tech Ranks #2 in State for Value of an Education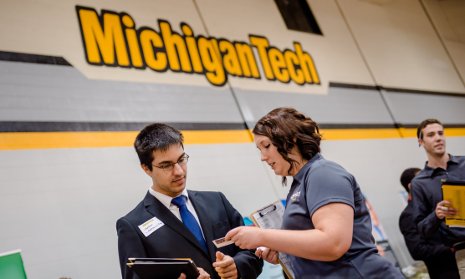 SmartAsset, a digital financial analysis company, has released its second annual study comparing the cost of a college education to graduates' average starting salaries. As it did last year, Michigan Technological University ranked second in the state, topped only by the University of Michigan.
The study ranked 29 public and private colleges and universities across Michigan. University of Michigan scored 83.2, while Michigan Tech scored 82.3. No other college or university in Michigan scored above 70. Scores were determined based on a scale that assigns about 25 percent weight to starting salary, tuition and living costs, with lesser weight given to scholarships, grants and student retention from one year to the next.
Michigan Tech, UM Score High
Both top-ranking universities cost approximately $26,000 a year for in-state students to attend, including tuition and living expenses. Michigan Tech graduates' average starting salary was $62,800, while the average starting salary of UM graduates was $58,000.
"We're starting to see more and more organizations and the public in general analyzing universities by how many students leave with successful, rewarding, high paying careers, rather than how many students a university denies admission," said John Lehman, Michigan Tech's associate vice president for enrollment, marketing and communications. "This mirrors what we know our students and their parents want in a university. We're pleased that SmartAsset recognizes that."
Other schools ranked
Coming in third in SmartAsset's value ranking was private, Flint-based Kettering University, with the state's highest average starting salary at $64,700 but also the third-highest tuition rate at $35,600, producing a value score of 69.7. Michigan State University at 62.1 and private Lawrence Technological University in Southfield at 55.8 rounded out the top five schools. Wayne State University placed 10th.
In a similar nationwide study by SmartAsset, Michigan Tech ranked 11th in the country.
Michigan Technological University is a public research university founded in 1885 in Houghton, Michigan, and is home to more than 7,000 students from 55 countries around the world. Consistently ranked among the best universities in the country for return on investment, Michigan's flagship technological university offers more than 120 undergraduate and graduate degree programs in science and technology, engineering, computing, forestry, business and economics, health professions, humanities, mathematics, social sciences, and the arts. The rural campus is situated just miles from Lake Superior in Michigan's Upper Peninsula, offering year-round opportunities for outdoor adventure.