DENSO Underwrites Undergraduate Dynamometer Facility at Michigan Tech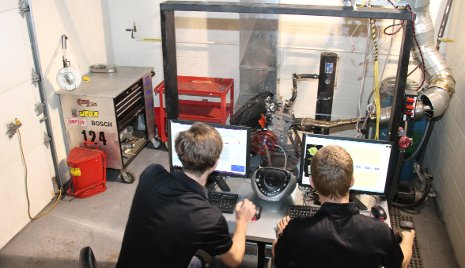 Three of Michigan Tech's Advanced Motorsports Enterprise teams are working together—literally—for the first time, thanks to a $25,000 grant from the DENSO North America Foundation. The funding is enabling the Formula SAE, Supermileage Systems and Clean Snowmobile teams to share remodeled engine-lab space in the Advanced Technology Development Complex (ATDC) on Sharon Avenue in Houghton.
In the new DENSO Undergraduate Dynamometer Facility, low walls now divide the lab into three work areas, so all three teams can use the facility at the same time.
"It's really nice to have a place where people with the same interests and the same goal—getting an engine tuned—can work together in a well-equipped environment," said Steve Wenzel, a fourth year mechanical engineering major and a member of the Formula team.
The Clean Snowmobile Enterprise team used to have to do their engine development work outside. Freezing temperatures made using dynamometers virtually impossible, because they use water.
The Formula Enterprise used to use the M & M Building, but they were always facing safety and exhaust challenges.
"We've had a longstanding partnership with DENSO," said Rick Berkey, sponsored projects manager for Michigan Tech's Enterprise and Senior Design programs. "They really like the hands-on, multidisciplinary automotive education we provide in the Advanced Motorsports Enterprise."
"The best learning experiences are when things don't work how you expected them to work, or how the text book explained," said Doug Patton, president of the DENSO North America Foundation and senior vice president of Engineering at DENSO International America, Inc. "The best way to learn is to get your hands on a product, use real tools, put something together and test it. We want to create these hands-on opportunities for students because we need them —our future depends on innovative engineers and professionals to continuously develop and improve technologies that will help society."
Since 2001, Michigan Tech has received $521,000 in grants from DENSO. The manufacturer of corrosion prevention and sealing technologies supported the establishment of the DENSO Student Design Center at Tech's Keweenaw Research Center.
A registered 501(c)3 corporate foundation, The DENSO North America Foundation is dedicated to helping students advance their education in engineering, technology and other related programs. Founded in 2001, the Foundation provides grants to colleges and universities throughout North America, helping our communities prosper through the development of a skilled and knowledgeable workforce. The Foundation also provides disaster relief grants through the American Red Cross to aid persons and communities in which DENSO Corporation operates. For more information, visit http://densofoundation.org, or connect with DENSO in North America on Facebook at www.facebook.com/DENSOinNorthAmerica.


Michigan Technological University is a public research university founded in 1885 in Houghton, Michigan, and is home to more than 7,000 students from 55 countries around the world. Consistently ranked among the best universities in the country for return on investment, the University offers more than 125 undergraduate and graduate degree programs in science and technology, engineering, computing, forestry, business and economics, health professions, humanities, mathematics, social sciences, and the arts. The rural campus is situated just miles from Lake Superior in Michigan's Upper Peninsula, offering year-round opportunities for outdoor adventure.