There are many ways to promote your University or Community special events.
Posters
The Memorial Union has designated two locations in the building for postings by members of the University and the local community; i.e. apartment for rent, stereo for sale, events, and help wanted notices. All promotional materials must clearly identify the date of the activity and the sponsor of the activity; i.e. Varsity Club Social or Event sponsored by Educational Opportunity. Promotional material will be posted by Memorial Union staff on a regular basis, Monday through Friday, and will stay up for two weeks or when the event is over, whichever comes first.
All materials to be posted must be submitted to the Memorial Union Office for approval and posting. To keep our postings areas from becoming cluttered, unapproved posters will be recycled.
Bring two copies to the Memorial Union Office (101) and we'll gladly post them for you.
Promotions Tables
There are two promotions tables located in the Keweenaw Commons that can be used by student organizations and University Departments to sell tickets to events, promote activities, recruit members, etc. Tables need to be reserved in advance.
You can reserve the Promotions Tables by emailing mubrooms@mtu.edu.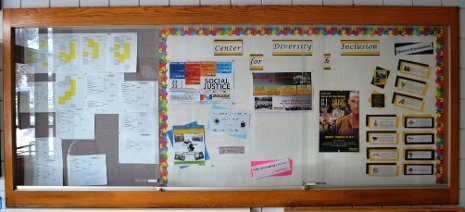 Display Cases
University Departments and Student Organizations can take advantage of three display case spots in the vestibule of the main entrance to the Memorial Union. Display case spots are reserved for one semester at a time and should remain up to date with current information.
You can reserve the Display Cases by emailing mubrooms@mtu.edu.
Table Tents
Table tents are a low-cost advertising method to reach a large number of students, staff, and faculty with announcements about current events for groups affiliated with Michigan Tech. Table Tents are intended for the promotion of individual events, not consecutive or routine marketing.
Tents must be approved by Husky Eats following the policy and steps listed below.
Policy
A maximum of five table tents will be approved each week on a first-come, first-served basis at the discretion of Husky Eats. Priority will be given to one-time events.
Available slots by week are viewable on our Table Tent Tracker and approvals are only for a one week slot.
It may take up to 2 business days for review and approval, please plan accordingly.
All table tents in each location will be recycled if there is an event that necessitates clearing the tables and every Friday.
Steps
Design your table tent, maximum allowed size is on 8.5" x 11" paper folded. Be sure to include your registered student organization or department name on it. University entities (not student organizations) are required to include the Equal Opportunity Tagline on all advertisements
Submit your table tent for approval via email as a PDF to huskyeats@mtu.edu with 'Table Tent' and your organization or department name in the subject line. Please indicate which week you are requesting to display your table tent.
After receiving approval, you can print your table tents. Quantities and locations where table tents are permitted are at the MUB Keweenaw Commons, (See permitted table map) 59; Food Hall at Douglass Houghton Hall, 35; The Eatery at McNair, 50; and The Food Hall at Wadsworth Hall, 97. (Total of 241)
Place your table tents, one per table. All table tents in each location will be recycled if there is an event or every Friday.
Husky Eats and the Memorial Union Building are actively seeking alternative sustainable options to table tents for event advertising. This policy is subject to change. Thank you for your cooperation.