Wadsworth Hall (Wads) is the largest hall on campus at one-quarter-mile long and five stories high with approximately 1,050 beds available for assignment. It offers traditional and suite-style double occupancy rooms and contains several theme communities. With study and social lounges on each floor, there are plenty of opportunities to build relationships and focus on coursework. Wads contains many unique spaces, including the Campus Cafe, an Engineering Fundamentals classroom, and the campus radio station. Multi-use rooms on the ground floor provide additional study and social spaces for students to enjoy.
Room Layouts
2-Person Room: Virtual Tour
2-Person with Bathroom: Virtual Tour
Amenities
Each hall has its own collection of dining halls, student lounges, and a reception desk. Select any of the additional services below for a description and more information.
Mail service for students and staff
Cash/change exchange up to $20
Room key check-out for lost or misplaced room keys
Wadsworth dining hall meal passes available for purchase
Wads Desk phone #906-487-4600
For the fitness enthusiast each hall has a fitness room well-equipped with aerobic and weight training equipment. All residence hall students can join the Quad Core Fitness Club for a nominal fee.
Wadsworth Hall Quad Core Fitness Center
Wadsworth Hall Quad Core Fitness Center 360
The game rooms offer a variety of recreational equipment from pool tables to arcade games. Equipment is provided and may be checked out at the Reception Desks.
Laundry rooms are conveniently located in each hall.
Wadsworth Hall has a music room where students may play their instruments. A piano is also located in this room.
Many areas, specifically designated for studying, are located in each residence hall. A quiet environment is observed there at all times.
Kitchenettes provide a place for students to make anything from a light snack to a gourmet meal. Each is furnished with a stove, microwave, sink and refrigerator. Wadsworth hall has fourteen kitchenettes that are strategically located on each floor throughout the building.
Residents have the opportunity to store their bikes in hall storage over the winter. Between the damaging weather and snow plows, most students use this free storage option as opposed to hauling their bike home with them over breaks.
Computing at Michigan Techis available in many places and in many ways. Each major has computing facilities with the hardware and software that are available to you through your computing fee.
Many students bring their own desktop or laptop computer. ResTech is Michigan Tech's residence hall network that provides students with high-speed Internet access from the comfort of their rooms. A list of wireless Internet hotzones on campus is also available through RoverNet.
Printers are available for residents to use on campus. For more information visit Residence Hall Printing.
The standard double room measures 12' X 15' and includes two loftable beds, two chests of drawers, two desks, two study chairs, a wastebasket, and carpeting. Each room has either a closet or two armoires. Triple and quad rooms are furnished accordingly. All furniture must remain in your room at all times. To view room measurements and furniture specifications, click here.
Since we do not furnish bed linens, you are encouraged to purchase linens prior to arrival. The standard mattress size is 36" X 80" and extra-long twin sheets fit best. You are responsible for laundering your own linens.
Dimensions are expressed in Height x Width x Depth.
| | |
| --- | --- |
| Dresser | — 30" x 36" x 22" |
| | |
| --- | --- |
| Loft Bed | — 69" x 86" x 39" |
| | |
| --- | --- |
| Wardrobe | — 57" x 35" x 22" |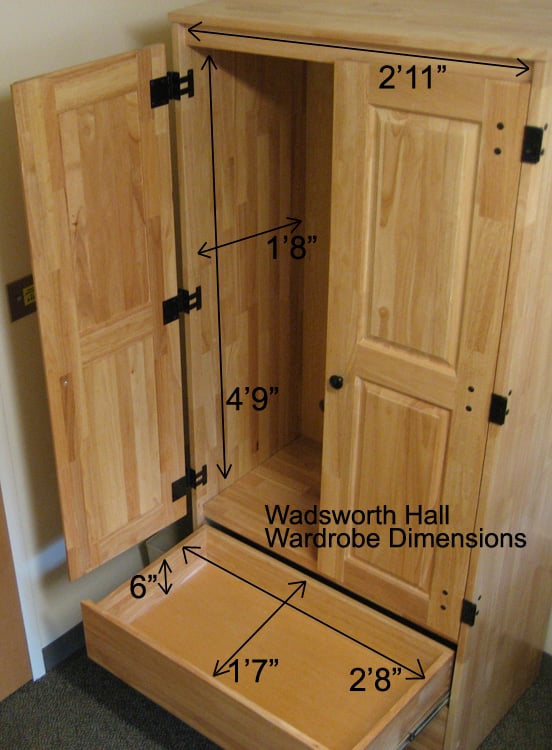 | | |
| --- | --- |
| Drawers | 6" x 32" x 19" |
| Inside | 56" x 32" x 20" |
| Hanging Bar | 54" |
Every room in Wadsworth Hall comes with one wardrobe per student living in the room.
Refrigerators are provided for residents that live in rooms with private baths in Wadsworth Hall. If you are not assigned to this area, you are welcome to bring a refrigerator with you, but it must not be larger than 25" wide x 25" deep x 35" high.
Since we do not furnish bed linens, you are encouraged to purchase linens prior to arrival. The standard mattress size is 36 inches by 80 inches. Extra-long twin sheets fit best. You are responsible for laundering your own linens.
Saunas are available for students in each residence hall. Hours for use are posted in the respective hall.