Play Welcome to Douglass Houghton Hall video
Welcome to Douglass Houghton Hall
Douglass Houghton Hall (DHH), our smallest residence hall, has about 360 beds available in the three-story structure. It includes primarily double-occupancy rooms but also has a small number of quadruple-occupancy and single occupancy. DHH opened in 1939 and characterizes that time period with its unique architectural details. It features a scenic view of the Keweenaw Waterway and is within a five-minute walk of the water. Its proximity to campus also gives residents quick access to classes and labs. The building's history and inviting layout provide a comfortable living environment that encourages residents to return year after year.
Room Layout
2-Person Room: Virtual Tour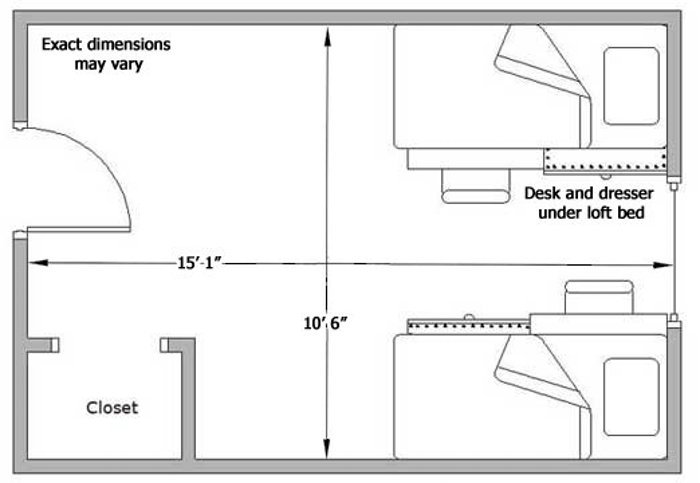 Amenities
Douglass Houghton Hall has its own dining hall, student lounges, and a reception desk. Select any of the additional services below for a description and more information.
Reception Desk Services
Mail service for students and staff
Cash/change exchange up to $20
Room key check-out for lost or misplaced room keys
Sell meal passes for the dining hall in DHH
DHH Desk Phone #906-487-4650
Game Rooms
The game rooms offer a variety of recreational equipment from pool tables to arcade games. Equipment is provided and may be checked out at the Reception Desks.
Laundry Rooms
Laundry rooms are conveniently located in Douglass Houghton Hall. Housing & Residential Life provides and maintains washers free of charge for all residents. Dryers are also provided at a cost of twenty-five cents per cycle.
Study Areas
Many areas, specifically designated for studying, are located in Douglass Houghton Hall. A quiet environment is observed there at all times.
Kitchenettes
Douglass Houghton Hall has a newly renovated kitchenette on the ground floor.
Bike Storage
Residents have the opportunity to store their bikes in hall storage over the winter. Between the damaging weather and snow plows, most students use this free storage option as opposed to hauling their bike home with them over breaks.
Computer Connections & Printing
Computing at Michigan Tech is available in many places and in many ways. Each major has computing facilities with the hardware and software that are available to you through your computing fee.
Many students bring their own desktop or laptop computer. ResTech is Michigan Tech's residence hall network that provides students with high-speed Internet access from the comfort of their rooms. A list of wireless Internet hotzones on campus is also available through RoverNet.
Printers are available for residents to use on campus. For more information visit Residence Hall Printing.
Cable TV
Residence hall rooms have cable TV service provided by Michigan Tech. Included in the channel lineup is the Husky Movie Vision channel, which shows student-selected movies. Premium channels are also available by subscription. For further details, visit Telcom's Television Services page
Furnishings
The standard double room measures 12' X 15' and includes two loftable beds, two chests of drawers, two desks, two study chairs, a wastebasket, and carpeting. Each room has either a closet or two armoires. Triple and quad rooms are furnished accordingly. All furniture must remain in your room at all times. To view room measurements and furniture specifications, click here.
Since we do not furnish bed linens, you are encouraged to purchase linens prior to arrival. You may purchase linens online at Residence Hall Linens. The standard mattress size is 36" X 80" and extra-long twin sheets fit best. You are responsible for laundering your own linens.
Dimensions are expressed in Height x Width x Depth.
| | |
| --- | --- |
| Dresser | — 30" x 36" x 22" |
| | |
| --- | --- |
| Loft Bed | — 69" x 86" x 39" |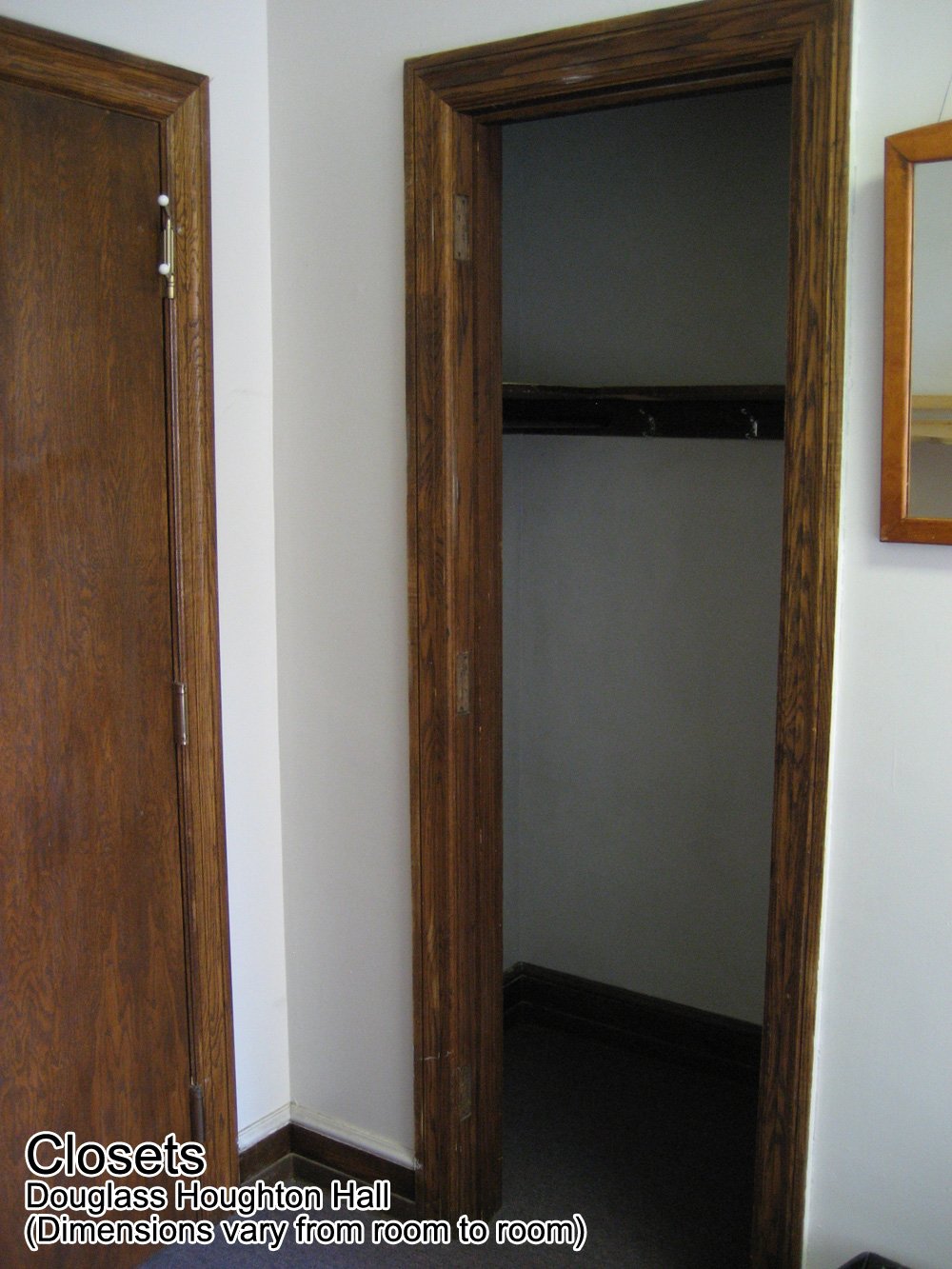 Every room in DHH comes with closet. Dimensions vary.
Refrigerators
You are welcome to bring a refrigerator with you, but it must not be larger than 25" wide x 25" deep x 35" high.
Linens for Bedding
Since we do not furnish bed linens, you are encouraged to purchase linens prior to arrival. The standard mattress size is 36 inches by 80 inches. Extra-long twin sheets fit best. You are responsible for laundering your own linens. You may purchase all of your extra long bedding for residence hall linens online.
Saunas
A sauna is available for students in Douglass Houghton Hall. Hours for use are posted outside of the sauna.