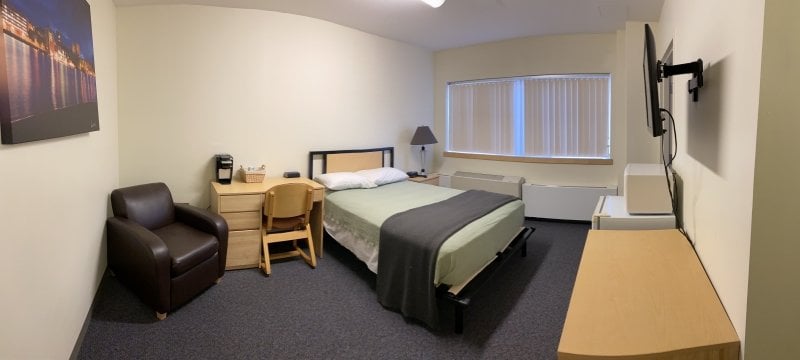 *We apologize, but guest rooms are currently unavailable.
Wadsworth Hall, on the Michigan Tech campus, offers five non-smoking motel-style rooms to
visiting guests, parents, or family.
Amenities for each room are the same and include the following:
full size bed
iron
Keurig machine & k-cups
refrigerator
microwave
wireless internet
television
hair dryer
private bathroom
air-conditioning/heat
Check in time is 2pm Monday - Friday and 10am Saturday - Sunday. Check out time is 10am. Guests that need to check out later or check in earlier may be charged for an additional day. If an early check in time or a late check out time is needed, this needs to be arranged at the time of reservation.
Guest rooms may not be available during orientation week, during special events or University breaks.
Parking is located at the back of Wadsworth Hall - each guest room has an assigned parking spot. Parking passes must be visible while parked in the lot.
Smoking and pets are not permitted.
For all guest room reservations and questions, please contact Residence Education and Housing Services at
906-487-2682.
Guest Room Rates
One full size bed $89/night
Rates do not include sales tax or parking passes. Rates are subject to change. Visa, MasterCard, and Discover cards are accepted. Due to University security policies, payment is required at the time of reservation. We do not require a minimum notice for cancellation for a full refund.